Burn Awareness Week
Sheila Harley of SJI Fire/Rescue shares this announcement…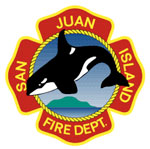 Burn Awareness Week: Don't Get Burned
February 1-7 is Burn Awareness Week. Take time with your family and friends to discuss how to prevent scalding and burns, which is especially important because every day routines such as cooking, ironing, bathing, washing clothes, and curling hair can cause burn injuries. In fact, according to the American Burn Association most burns are started in the kitchen and bathroon.
Prevent burn injuries by making changes to some of your daily routines. The National Fire Protection Association offers some recommendations to keep you and your family safe:
Allow microwaved dishes to cool before removing from the microwave oven;
Place hot liquids and food in the center of a table or toward the back of a counter;
Test bath water before you or your child get into the tub; and
Never heat a baby bottle in the microwave oven. Heat baby bottles in warm water from the faucet.
If you do receive a burn injury, you should:
Cool the burn with cool water for three to five minutes;
Cover it with a clean, dry cloth; and
Seek medical attention if needed.