Love Letters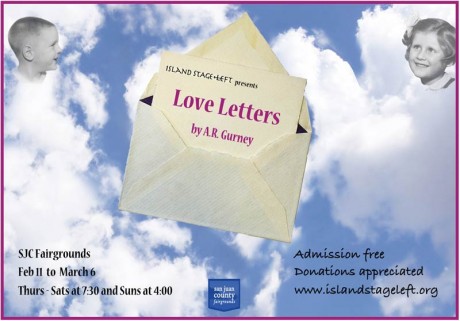 Helen Machin-Smith and Daniel Mayes of Island Stage Left perform A.R. Gurney's "Love Letters" Feb 11 – March 6 at the Marie Boe Building (SJC Fairgrounds)
Bring your Valentine, your old friend or your new love – This wonderful, simple play encompasses them all.
"a disarmingly funny and unforgettably emotional portrait about the powerful connection of love."
Two friends, rebellious Melissa Gardner and straight-arrow Andrew Makepeace Ladd the Third have exchanged notes, cards and letters with each other for over fifty years. From second grade, through summer vacations, to college, and well into adulthood, they have spent a lifetime physically apart, perhaps, but spiritually as close as only true lovers can be.