Perform at the Fair!
Calling Local Musicians & Performers!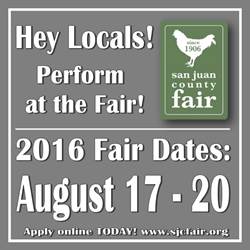 Tell your friends, tell your neighbors, the San Juan County Fair is now accepting applications from local artists and performers for the 2016 Fair. The Fair is proud to feature all types of performances… from acappella groups to dance troupes – do you have a hidden talent you'd like to showcase at the Fair?
If you are interested, or would like to send a sample of your work to us, please complete an online application through the San Juan County Fair website: http://www.sjcfair.org/p/fair-event/performer-app
Don't miss this opportunity to perform for your community!