Shoreline Landowner Workshop
Shoreline erosion management focus of free workshop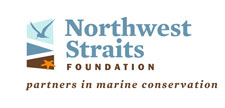 Shoreline landowners of San Juan County communities are invited to attend a free workshop on shoreline erosion management from 11:00am to 2:00pm on Saturday, May 14, 2016 at The Orcas Fire & Rescue Meeting Room, 45 Lavender Ln., Eastsound.
The workshop is free but registration is requested by calling (360)733-1725 or register online at this link. The workshop is sponsored by the Northwest Straits Foundation and hosted by the San Juan County Marine Resources Committee.
Workshop format is a classroom-style presentation with time for questions, followed by a brief beach walk to see beach/bluff habitats and geologic processes. Workshop topics include:
Erosion management
Alternatives to hard shoreline armoring
Enhancing beach access
Native vegetation for slope stability and habitat
Participants will learn from expert Jim Johannessen of Coastal Geologic Services about ways to protect their property from erosion and alternatives to hard armoring that can help prevent erosion while maintaining a healthy and vibrant nearshore habitat to benefit people and wildlife long term. Workshop attendees can apply for a free technical site visit from qualified professionals and receive management recommendations by private consultants for your specific property.
Community members are encouraged to attend this workshop if they are a shoreline landowner who wants to learn more about ways to reduce erosion, address drainage or vegetation impacts, as well as those considering installing, removing or repairing hard armoring on your shoreline property.
If you are a shoreline property owner unable to attend the May 14th workshop, you may learn more about the site visits and technical support services available by contacting Lisa Kaufman, Nearshore Manager, by email at kaufman [@] nwstraitsfoundation.org or phone at (360) 733-1725.
The workshop is sponsored by the Northwest Straits Foundation, San Juan County Marine Resources Committee, with funding from the Puget Sound Marine & Nearshore Grant Program.
About the Northwest Straits Foundation
The Northwest Straits Foundation is the non-profit partner of the Northwest Straits Initiative, a collaborative model for marine conservation with a vision of diverse communities working together to restore a thriving marine ecosystem in the Northwest Straits of the Salish Sea.
The Foundation works in partnership with the Northwest Straits Commission and seven local Marine Resources Committees (MRCs) of the Northwest Straits whose members represent the diverse stakeholders of their communities, and who identify and implement local marine conservation and restoration projects in their communities.
Northwest Straits Foundation works with the MRCS to develop projects and attain funding support, as well as implement regional restoration and education programs, including its internationally-recognized Derelict Gear Removal Program. See www.nwstraitsfoundation.org for more information.