OPALCO News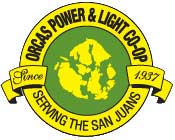 This story submitted by Louise Dustrude…
OPALCO board president Vince Dauciunas told a handful of co-op members about some of the swift changes occurring in the electrical industry on Tuesday evening at the Grange.
Of greatest significance is the possibility that by 2025 it may be cheaper for us to produce a portion of our own energy in the county than to buy it from Bonneville Power Administration (BPA), with whom our current contract expires in 2028.
A number of coal plants in the Pacific Northwest are scheduled to close down by 2025, and Dauciunas said that Washington state is planning to address that loss of power generation primarily with conservation. Another good option would be using tidal power, although it may be a decade or more before tidal technology is cost effective in our area.
There are currently 177 solar and micro-hydro systems in the county and more in the works. Opalco believes that community solar systems will also be viable, and is currently studying a pilot community solar project with battery storage. At the same time, Opalco is closely following emerging tidal systems currently under development, to see if it might be feasible for our co-op. One of our largest challenges will be to make renewable energy reliable in the form of firm energy.
Opalco and its membership have already used conservation measures to keep demand from growing, but much more needs to occur. "Demand response" is another way to do so — such as lowering the temperature of your water heater during peak use hours.
Trading electrical power across the country is another useful method. For example, our highest demand for electricity comes in the winter, for heat, whereas in Arizona the peak comes in the summer, for air conditioning. With the "smart grid" the two states could potentially trade off and supply one another when needed.
For those of us just beginning to grapple with some of these concepts he recommended a publication:  "Smart Grids for Dummies" from the Government website smartgrid.gov as a good starting point.