Chamber Chat
Posted August 18, 2016 at 5:50 am by Tim Dustrude
It's time once again for Cham­ber Chat, this one is for August 2016 and was writ­ten by Lau­ren Cohen, Co-own­er of San Juan Can­vas, LLC and Cham­ber of Com­merce Board President…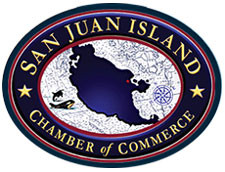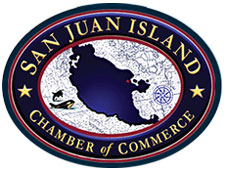 It is hard to believe that we are already in the sec­ond half of August and autumn is right around the cor­ner. The Cham­ber Board of Direc­tors, Exec­u­tive Direc­tor and Staff all hope that it has been a pros­per­ous sea­son for local busi­ness and that the beau­ti­ful weath­er keeps vis­i­tors com­ing to the island well into the fall.
Late sum­mer tends to be a time when busi­ness­es and res­i­dents alike seem to tire of the stream of tourists com­ing to our island but instead it ought to be a time of pride. We should all be proud that we are able to reside in a place so incred­i­ble that vis­i­tors want to come here in great num­bers and hope­ful­ly return again and again. Proud that we have a Town, Coun­ty, Visitor's Bureau and Cham­bers of Com­merce that work hard to attract and serve guests from near and far. Proud that we have a vibrant busi­ness com­mu­ni­ty to offer every imag­in­able ser­vice our vis­i­tors could need and that those pro­vid­ing excel­lent cus­tomer ser­vice keep peo­ple return­ing and spread­ing the word on their pos­i­tive experience.
Our Island res­i­dents great­ly con­tribute to our ever impor­tant tourism indus­try by their kind inter­ac­tions with vis­i­tors. When a guest to our com­mu­ni­ty can talk about the nice peo­ple they met on San Juan Island, our res­i­dents become an impor­tant part­ner in this econ­o­my on which we all rely. We will be expe­ri­enc­ing the qui­et of win­ter before we know it so show your com­mu­ni­ty pride by wel­com­ing all for as long as they will stay.
New Mem­bers
We wel­come new mem­ber Prop­er Pic­nic out of Muk­il­teo to the Cham­ber of Com­merce. Kel­ly Col­man pro­vides pic­nic lunch­es for your day excur­sions. www.properpicnic.com
Fea­tured Member
Con­grat­u­la­tions to our ran­dom­ly select­ed Fea­tured Mem­ber of the Month, Elec­trol­y­sis San Juan owned by Danielle Wheel­er. Hope­ful­ly you all saw the arti­cle on Danielle in the San Juan Update. Elec­trol­y­sis San Juan is the exclu­sive provider of per­ma­nent hair removal treat­ment in the San Juan County.
Danielle can be reached at 360–298-4068 or info [@] electrosj.com. Her busi­ness is locat­ed at 818 Mullis Street.
Upcom­ing Events
Autumn is a won­der­ful sea­son on San Juan Island.
Keep an eye out for addi­tion­al infor­ma­tion on some great events to come.
The San Juan Island Cham­ber of Com­merce in part­ner­ship with the Ag Guild will be host­ing a "Farm To Table" din­ner some­time in Octo­ber. This event will be a fundrais­er for a schol­ar­ship to be grant­ed to a mem­ber of the Class of 2017. More details to follow.
The Fourth Annu­al Fri­day Har­bor Film Fes­ti­val will take place on Novem­ber 4, 5 & 6. This is a fan­tas­tic event. Show your sup­port any way you can. Check out the web­site at www.fhff.org You can also con­tact Lynn Dana­her, Direc­tor or Karen Palmer, Pro­duc­er, both of whom we com­mend great­ly for cre­at­ing an amaz­ing source of pride for San Juan Island.
The Island Lights Fes­ti­val. Save the date for a great evening to cel­e­brate the hol­i­day sea­son and light our beau­ti­ful Town trees. Fri­day, Decem­ber 2 will be the day…..mark your cal­en­dar and plan to join in the fes­tiv­i­ties. More details on all of the evenings events to follow.
Have a great last hur­rah of summer.
There will be no Cham­ber Chat in Sep­tem­ber as I get out of town for a break. Cheers until October!
You can support the San Juan Update by doing business with our loyal advertisers, and by making a one-time contribution or a recurring donation.