Celebrating World Polio Day – October 24
Posted October 23, 2016 at 5:48 am by Tim Dustrude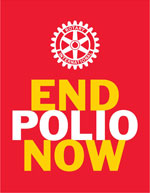 On 24 Octo­ber, Rotary will mark World Polio Day to help raise aware­ness and the fund­ing we need to reach full eradication.
Rotary has con­tributed more than $1.6 bil­lion to end­ing polio since 1985, includ­ing $70,000 con­tributed by Rotary Club of San Juan Island since their for­ma­tion in 2003.
Since Rotary and its part­ners launched the Glob­al Polio Erad­i­ca­tion Ini­tia­tive 31 years ago, the inci­dence of polio has plum­met­ed by more than 99.9 per­cent, from about 350,000 cas­es a year to 26 con­firmed as of 9/16/16. To sus­tain this progress, and pro­tect our chil­dren from polio, experts say $1.5 bil­lion is urgent­ly need­ed. With­out full fund­ing and polit­i­cal com­mit­ment, this par­a­lyz­ing dis­ease could return to pre­vi­ous polio-free coun­tries, putting chil­dren every­where at risk.
Cel­e­brate how close we are in end­ing polio by mak­ing a dona­tion in hon­or of World Polio Day. Your gift will be matched 2‑to‑1 by the Bill & Melin­da Gates Foun­da­tion at Rotary Club of San Juan Island web­site, first page, under Rotary Links, click on Rotary International.
Car­la Wright
Publicity
Rotary Club of San Juan Island
You can support the San Juan Update by doing business with our loyal advertisers, and by making a one-time contribution or a recurring donation.