First European Green Crab in Washington's Salish Sea
Posted October 11, 2016 at 5:45 am by Tim Dustrude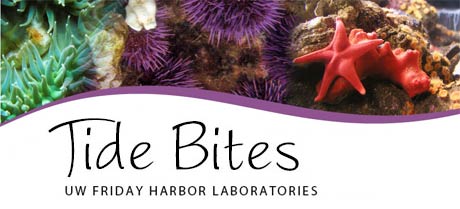 by Sylvia Yama­da and Craig Staude
"Sylvia, I think we caught one!" Craig Staude shout­ed excit­ed­ly as he and his team of vol­un­teers opened a bait­ed trap in a tidal chan­nel near the sculp­ture park at Roche Har­bor on August 30th. Sure enough, the 74-mil­lime­ter-wide male was the first live Euro­pean green crab ever caught in Wash­ing­ton's Sal­ish Sea! Why is the dis­cov­ery of this green crab spec­i­men such an impor­tant find?
The Euro­pean green crab (Carci­nus mae­nas) has invad­ed tem­per­ate marine com­mu­ni­ties around the world since the time of sail­ing ships. When abun­dant, green crabs are vora­cious preda­tors on native species includ­ing clams, oys­ters, and crabs. They are also eco­log­i­cal engi­neers, caus­ing dam­age to valu­able eel­grass beds by rip­ping up the plants in search of food. The poten­tial for such dam­age is pre­cise­ly why the dis­cov­ery of green crabs in the Sal­ish Sea is of such con­cern to biol­o­gists and aqua­cul­tur­ists on both sides of the border.
You can support the San Juan Update by doing business with our loyal advertisers, and by making a one-time contribution or a recurring donation.