Apply to the FHAC
Posted November 11, 2016 at 5:43 am by Tim Dustrude
Town accept­ing appli­ca­tions for open posi­tion on Fri­day Har­bor Arts Commission.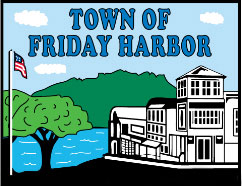 The Fri­day Har­bor Arts Com­mis­sion (FHAC) is seek­ing one new mem­ber to fill a three-year posi­tion com­menc­ing Jan­u­ary 1, 2017. The per­son fill­ing this unpaid, vol­un­teer posi­tion is expect­ed to rep­re­sent the inter­ests of the Town, com­mu­ni­ty and local artists and advise the Town Coun­cil on the cul­ti­va­tion, selec­tion, acqui­si­tion and place­ment of pub­lic art.
The FHAC was formed in Feb­ru­ary 2015 with May­or Car­rie Lacher's appoint­ment of eight com­mis­sion­ers, includ­ing one non-vot­ing youth mem­ber. Meet­ings are held the sec­ond Tues­day of each month.
Those with expe­ri­ence, back­ground or involve­ment with visu­al, per­form­ing or lit­er­ary art should pro­vide a Let­ter of Inter­est to May­or Lach­er. Appli­cants may choose to include exam­ples of their art or experience.
Appli­ca­tion review will con­tin­ue until the posi­tion is filled. For specifics on the respon­si­bil­i­ties of the com­mis­sion, appli­cants are advised to review the FHAC Guide­lines post­ed under "Arts Com­mis­sion" in the Agen­da tab at the Town of Fri­day Har­bor web site: www.fridayharbor.org.
Ques­tions and appli­ca­tion let­ter should be direct­ed to:
Town of Fri­day Har­bor, ATTN: Julie Greene
60 Sec­ond Street / PO Box 219 / Fri­day Har­bor, WA 98250
julie [@] fridayharbor.org
(360) 378‑2810, ext. 229
You can support the San Juan Update by doing business with our loyal advertisers, and by making a one-time contribution or a recurring donation.