CLG Designation for Town of Friday Harbor
Posted February 7, 2017 at 4:41 pm by Tim Dustrude
Depart­ment of the Inte­ri­or awards Town spe­cial des­ig­na­tions for his­toric preservation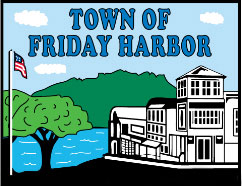 The Town of Fri­day Har­bor has received spe­cial des­ig­na­tion as a Cer­ti­fied Local Gov­ern­ment (CLG) by the Nation­al Park Ser­vice and the Unit­ed States Depart­ment of the Interior.
Cer­ti­fied Local Gov­ern­ment (CLG) is a des­ig­na­tion cre­at­ed as part of the Nation­al His­toric Preser­va­tion Act to qual­i­fy­ing local gov­ern­ments whose preser­va­tion pro­grams meet nation­al stan­dards for his­toric preservation.
In 2015 and 2016 the Town of Fri­day Har­bor updat­ed the his­toric preser­va­tion sec­tions of the Munic­i­pal Code to meet the cri­te­ria for CLG des­ig­na­tion. This includ­ed adopt­ing new com­pre­hen­sive and user-friend­ly design review lan­guage for build­ing and remod­el­ing projects in the his­toric dis­trict, as well as the cre­ation of a local land­mark reg­is­ter which just recent­ly opened for nominations.
The ben­e­fits of CLG sta­tus include Spe­cial Prop­er­ty Tax Val­u­a­tion, a pro­gram that allows own­ers of land­marked prop­er­ties to deduct the cost of qual­i­fy­ing ren­o­va­tions from the assessed val­ue of prop­er­ty for up to ten years. CLGs also have access to ear­marked preser­va­tion grants, train­ing and tech­ni­cal assis­tance from state and nation­al preser­va­tion agencies.
The Town's his­toric preser­va­tion coor­di­na­tor Sandy Strehlou believes that the process of apply­ing for CLG sta­tus has made the Town's pro­gram stronger, and in turn, will pro­vide more sup­port and resources for prop­er­ty own­ers who want to pre­serve their his­toric build­ings and sites.
You can support the San Juan Update by doing business with our loyal advertisers, and by making a one-time contribution or a recurring donation.