San Juan Islands Agricultural Summit 2017
Posted February 7, 2017 at 1:35 pm by Tim Dustrude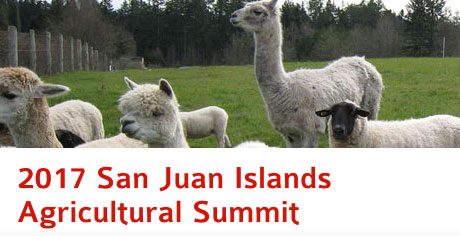 A dynam­ic oppor­tu­ni­ty for net­work­ing and learn­ing about farm­ing & food systems
Orcas Island, Feb­ru­ary 10 — 12
Join fel­low farm­ers, region­al experts, and local food and farm advo­cates this Feb­ru­ary 10th through 12th for two-and-a-half days of edu­ca­tion, inspi­ra­tion, and cama­raderie at beau­ti­ful YMCA Camp Ork­i­la on Orcas Island. The theme for this year's sum­mit, "Gath­er & Sow," high­lights com­mu­ni­ty and the shar­ing of infor­ma­tion, and will offer some­thing for farm­ers, gar­den­ers and food lovers alike. Engage in work­shops, ses­sions, round­ta­bles, and pan­el dis­cus­sions focus­ing on the issues and ideas essen­tial to cre­at­ing a sus­tain­able food system.
Fri­day Work­shops & Taste of the San Juan Islands:
On Fri­day, attend one of sev­er­al hands-on work­shops, includ­ing Farm Busi­ness Plan­ning and Fund­ing, Per­ma­cul­ture Design for the Farm and Home­stead, Man­ag­ing Soil from Com­post to For­age, Food Safe­ty, Seed Clean­ing and Pro­duc­tion, and others.
There are fun activ­i­ties after the work­shops Fri­day evening, begin­ning with a seed and scion swap from 5:30 – 6:30 p.m. Enjoy an evening of deli­cious food from farms and chefs from Lopez, Orcas and San Juan Island at a spe­cial "Taste of the San Juan Islands" from 6:30 to 9:00 p.m. open to the pub­lic. Tick­ets to the Taste can be pur­chased with Sum­mit pack­ages as well as at the door.
Sat­ur­day Sessions:

Sat­ur­day will begin with an inspir­ing dis­cus­sion from Agrar­i­an Vision­ar­ies includ­ing Anne Schwartz, John Navazio, Tom Thorn­ton and Don Tip­ping. Choose from more than a dozen com­pelling Sat­ur­day ses­sions led by region­al experts: Build­ing a Seed Pro­duc­tion Coop­er­a­tive, Food Safe­ty, Inno­va­tions in Local Cui­sine, Agri­cul­tur­al Resilien­cy in the face of Cli­mate Change, Mod­els and Tools for Farm­land Access, Pest and Dis­ease Iden­ti­fi­ca­tion and Organ­ic Man­age­ment, Coast Sal­ish Per­spec­tive, and more. Fol­low­ing the ses­sions a pan­el of local elect­ed offi­cials will dis­cuss food and agri­cul­tur­al activism. Sat­ur­day will con­clude with din­ner and a social with live music, drinks, and a chance to con­nect with fel­low Sum­mit participants.
The Sum­mit will wrap up Sun­day morn­ing with oppor­tu­ni­ties to recap and dis­cuss find­ings from the Sum­mit through infor­mal dis­cus­sion groups. This will also be a time for par­tic­i­pants to come togeth­er and for­mu­late a plan for mov­ing forward.
For more detailed infor­ma­tion about the 2017 San Juan Islands Agri­cul­tur­al Sum­mit sched­ule and to reg­is­ter go to http://sjcarc.org/summit/. Ques­tions? Con­tact sum­mit [@] sjcarc.org
* * *
The San Juan Islands Agri­cul­tur­al Sum­mit 2017 spon­sors and part­ners include the Agri­cul­tur­al Resources Com­mit­tee of San Juan Coun­ty (ARC); the San Juan Islands Agri­cul­tur­al Guild; WSU San Juan Coun­ty Exten­sion; the North­west Agri­cul­ture Busi­ness Cen­ter (NABC), the Orcas Food Co-op, YMCA Camp Ork­i­la, the San Juan Islands Con­ser­va­tion Dis­trict, the San Juan Islands Vis­i­tors Bureau and San Juan County.
You can support the San Juan Update by doing business with our loyal advertisers, and by making a one-time contribution or a recurring donation.