Letter from Rob Simpson
Posted February 10, 2017 at 5:30 am by Tim Dustrude
In the SJ Update Mail­bag today we have this let­ter from Rob Simpson…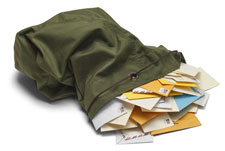 A few days after our first screen­ing of a new and chal­leng­ing doc­u­men­tary series called DEEP SPACE, I was informed that "pub­lic reac­tion" was so neg­a­tive that the for­mer­ly enthu­si­as­tic plan to screen the entire series over the com­ing months is imme­di­ate­ly cancelled.
Evi­dent­ly, for some vocal mem­bers in our com­mu­ni­ty, look­ing into DEEP SPACE was just too much to consider.
Way too much.
I fore­warned every­one who was think­ing of attend­ing that the DEEP SPACE series pulls togeth­er only the scat­tered bits of evi­dence we pos­sess, in order to help us ask bet­ter ques­tions in future.
Bet­ter ques­tions get us bet­ter answers.
Evi­dent­ly, DEEP SPACE offers too much to think about in these con­tentious times.
And so, they have pres­sured the library to not offer THIS kind of pro­gram for thought­ful analysis.
I know we have a lot on our plates to process these days.
​I am cer­tain­ly feel­ing it.
But, has it ​now ​become fash­ion­able to block what ​infor­ma­tion ​people​ ​​are exposed to?
Adopt­ing an "I don't want to hear about it" atti­tude should be a per­son­al deci­sion. Must we attempt to con­trol and restrict oth­ers thoughts, as well?
Thought­ful and brave analy­sis is in short sup­ply these days.
Is this a des­per­ate attempt to be com­fort­able in our old age?
Have we real­ly grown too rigid or fright­ened to see the changes ​fly­ing at us from all directions?
Most mil­len­ni­al kids sure see what is in the wind. ​I know mine do.
Rather than just not attend the screen­ings, some in our com­mu­ni­ty advo­cate "Killing the mes­sen­ger" when they don't like what they are hearing.
His­tor­i­cal­ly, has killing the mes­sen­ger ever been a good idea?
There will be no stop­ping ​what many are call­ing "dis­clo­sure".
Decades of repressed infor­ma­tion is now explod­ing into our consciousness.
Deny­ing new infor­ma­tion is futile.
It is cling­ing to ​the past… ​an imag­i­nary past.
It may be tem­porar­i­ly com­fort­ing, but is it useful?
Well, yes… for those who wish to main­tain a sta­tus quo.
And espe­cial­ly use­ful to those who wish to stay in power.
====================
SO… can we han­dle the truth?
Can we ana­lyze new infor­ma­tion with­out freak­ing out?
Nobody likes to hear of things like OPERATION PAPERCLIP (just one of the ear­ly points made in DEEP SPACE.)
​What was that?
After WWII, OPERATION PAPERCLIP (and oth­er activ­i­ties we don't talk about) was a clas­si­fied US policy.
We cov­et­ed the tech­ni­cal advance­ments of Germany.
They were work­ing on things we had­n't even dreamed of.
​​And we​ sure​ did­n't want the "Ruskies" to ​acquire it.
​And so we gave no-ques­tions-asked asy­lum to the best researchers the Nazi regime had to offer.
Are we to pre­tend that thou­sands of hard-line Nazi sci­en­tists were not giv­en asy­lum in top lev­els of our mil­i­tary research facil­i­ties and mil­i­tary industries?
All for a good cause, right?
But, are we to pre­tend they have not exert­ed a philo­soph­i­cal influ­ence over our post WWII mil­i­tary and gov­ern­ment? …even when the evi­dence is in our faces?
Are we to pre­tend we did­n't hear Pres­i­dents Eisen­how­er and Kennedy issue pub­lic warn­ings in the 1960's about the secret influ­ences being exert­ed at all lev­els of government?
Heck, decades ear­li­er even Pres­i­dent Wil­son gave us a sim­i­lar warning.
And ear­li­er still, so did Pres­i­dent Lincoln.
(Ever won­der why the warn­ings always involve the world banks?)
Secret​ soci­ety influ­ences are noth­ing new to our democracy.
Do we owe it to our­selves to become aware of it?
Or should we just let them go about their business?
===============================
This new​ ​​library pol­i­cy is not so much about our library, as it is a shift in our cul­ture. The library is just a reflection.
To be fair, I have been encour­aged by the library to "go pri­vate" with the DEEP SPACE series. That way, our library won't be impli­cat­ed with "endors­ing" game-chang­ing information.
But, I am at a loss. I have always thought that dif­fi­cult rev­e­la­tions are best han­dled ​in com­mu­ni­ty…​ with friends and neigh­bors to help us process and​ ​​fur­ther research things.
The library seemed like a good place for that​ to happen.
And for 6‑years of Con­sci­en­tious Pro­jec­tor screen­ings, it was.
But, 6 years ago, we col­lec­tive­ly weren't quite so seething with rage, fear, and anger. ​(The tools of soci­etal control.)
Times have changed.
Appar­ent­ly at this crit­i­cal junc­ture, we now must be iso­lat­ed in our pur­suit of ​non-main­stream ideas.
​Of course, ana­lyt­i­cal think­ing is not for everyone.
And it is one's priv­i­lege to engage in it.
Does it all just come down to the icon­ic Jack Nichol­son line from a movie:
"You want the truth​?​ You can't han­dle the truth!"
I hate to think that THAT is the truth.
It's up to you now​ as an individual.
Car­ry on.
Stay cen­tered in love.
(what­ev­er that means to you).
That is where hope lives.
It is also where solu­tions await us.
And stay awake.
The offi­cial nar­ra­tive is falling apart.
To quote mid-20th cen­tu­ry jour­nal­ist Edward R. Mur­row as he con­clud­ed each broadcast.…
"Good night, and good luck."
–
Rob
You can support the San Juan Update by doing business with our loyal advertisers, and by making a one-time contribution or a recurring donation.