OPALCO News
Posted February 10, 2017 at 5:34 am by Tim Dustrude
Com­mu­ni­ty Forum on Emer­gency Pre­pared­ness for Orcas Island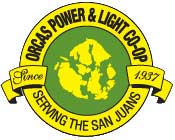 Host­ed by rep­re­sen­ta­tives from OPALCO, Orcas Fire & Res­cue, San Juan Coun­ty Emer­gency Man­age­ment and San Juan Coun­ty Sher­iff Depart­ment, this com­mu­ni­ty forum will share best prac­tices and dis­cuss indi­vid­ual and neigh­bor­hood plan­ning to enhance our abil­i­ty as islanders to ride out emergencies.
Tues­day, Feb­ru­ary 21st
Orcas Senior Center
4:00 — 6:30 PM
After short pre­sen­ta­tions from local emer­gency respon­ders, there will be an open dis­cus­sion and invi­ta­tion to share your ideas for emer­gency pre­pared­ness and orga­ni­za­tion. When indi­vid­ual home readi­ness and neigh­bor­hood emer­gency sys­tems dove­tail with first respon­der ser­vices we all become more effec­tive, as a com­mu­ni­ty we become a big­ger us.
These pre­sen­ta­tions and dis­cus­sions will enhance our under­stand­ing of how our own indi­vid­ual prepa­ra­tions, skills, resources, quick access to equip­ment and aware­ness of com­mu­ni­ty com­mu­ni­ca­tion can increase the suc­cess of emer­gency response. Par­tic­i­pants will take away a sense of the sig­nif­i­cant part they play and a list of actions they can take to enhance their emer­gency readiness.
You can support the San Juan Update by doing business with our loyal advertisers, and by making a one-time contribution or a recurring donation.