New Maps for the County
Posted March 30, 2017 at 5:23 am by Tim Dustrude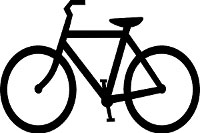 SJC Pub­lic Works is very pleased to announce that the Cyclist Map PDFs are now avail­able for down­load online. They can be found here: Cyclist Maps
These maps will be updat­ed peri­od­i­cal­ly as com­ments come in and road con­di­tions change. To pro­vide com­ments for future updates, please send an email to pubwks@sanjuanco.com.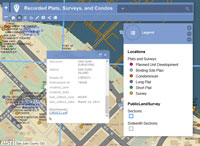 There is also a major update to the Coun­ty "Record­ed Plats, Sur­veys, & Con­dos" map
The San Juan Coun­ty "Record­ed Plats, Sur­veys, & Con­dos" map was first released in 2014 with very approx­i­mate and often erro­neous loca­tions of record­ed doc­u­ments. About a year ago, the San Juan Coun­ty GIS team col­lab­o­rat­ed with the Coun­ty Asses­sor's Office with a plan to cor­rect and update the data. For eight months, Chris Ledger­wood, Car­tog­ra­ph­er for the Asses­sor's Office, metic­u­lous­ly pin­point­ed and updat­ed the loca­tion of over 5,000 maps one-by-one!
Over 5,000 maps of record­ed Sur­veys, Long Plats, Short Plats, Con­do­mini­ums, Planned Unit Devel­op­ments, and Bind­ing Site Plans are locat­ed on this map by col­or-cod­ed pin­point dots. Click on any dot and scroll down with­in the pop-up Infor­ma­tion Win­dow to find active links to the actu­al relat­ed sur­vey maps as PDF images. Click on the PDF image link and the PDF map will show up in your browser.
Spread­sheets and GIS shape­files of the mapped loca­tions (exclud­ing PDF doc­u­ments) can be down­loaded from the San Juan Coun­ty Open Data web­site.
Every effort is made to main­tain cor­rect and updat­ed data. How­ev­er, there may be miss­ing doc­u­ments or map­ping errors. Please report ques­tions or data issues to us at sjcgis@sanjuanco.com.
Plats, Sur­veys, & Con­dos Web Map
You can support the San Juan Update by doing business with our loyal advertisers, and by making a one-time contribution or a recurring donation.