FHFF 5th Anniversary
This is the first in a 3-part series of this year's Friday Harbor Film Festival…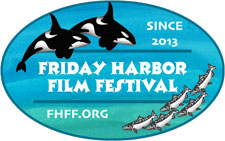 The Friday Harbor Film Festival is celebrating its 5th anniversary on November 3, 4, 5 2017. Lynn Danaher and Karen Palmer founded this important documentary film festival with a vision to share compelling documentary films that tell relevant stories that encourage viewers to be a force for positive change. We have selected over 35 films for this year's event. Each will be screened twice in one of the 5 venues/theatres.
A very important aspect of the film festival is to celebrate the filmmakers themselves, their hard work and dedication to their film craft because they feel they have an important story to share. Every film allows time for the filmmaker to answer Q & A after screening their film. This generates a very insightful level of dialogue. Plus, insures both the filmmaker and the viewer a richer experience. To date, over 90% of the films screened each year had a filmmaker in attendance, from as far away as Europe and Australia.
The Opening Night Gala, Friday Night, is a big dressy party with food and drink. During the evening we announce the Lifetime Achievement winner. For 2017, it's Eloise Cobell. The film 100 Years: One Woman's Fight for Justice will screen at our opening night Gala. We present the award each year to a deserving individual whose nomination aligns with the mission of the FHFF; as it is not just a film festival, but it has a presence in the community to shine light on stories and people who make a difference. Barack Obama also awarded the Medal of Freedom to Eloise.
The mission of the Friday Harbor Film festival simply stated:
Each year, the Friday Harbor Film Festival located on beautiful San Juan Island, Washington, invites dedicated and talented Filmmakers to showcase their Documentary films unique ability to
Entertain audiences through the art of compelling storytelling;
Inspire audience members, as well as filmmakers to be a force for positive change;
Enlighten all participants by conveying relevant information, creating awareness and expanding appreciation of our fragile planet, diverse cultures and those daring to explore new frontiers.
Encourage students to participate in the Young Filmmakers Project to learn the art of storytelling thru film.
We host the Young Filmmakers Project as well. This mentorship gives High School and Middle school students an opportunity to develop their homegrown films. Our hope is for our students achieve proficiency in the art of filmmaking. Like our Local Hero awardee Dylan D'Haeze a young filmmaker from Orcas Island who made an award winning short film, "Plastic is Forever."
We also have an Awards Night on Sunday; the audience selects films as their favorites. The categories are: Tales of the Heart, Explorers and Adventures, Things to Consider and Local Heroes, as well as the overall Audience Choice, Best Short film and Young Filmmaker film. This 3 day event of quality film immersion promises to be both entertaining, memorable and inspiring!