FHFF Local Hero Award – Dylan D'Haeze
Posted July 28, 2017 at 5:52 am by Tim Dustrude
This is the sec­ond in a 3‑part series about this year's Fri­day Har­bor Film Fes­ti­val. See part 1 here…
The Local Hero Award is pre­sent­ed each year to a present or for­mer res­i­dent of the San Juan Islands who has made out­stand­ing con­tri­bu­tions to our qual­i­ty of life, impact­ing peo­ple, ani­mals, the arts, or the environment.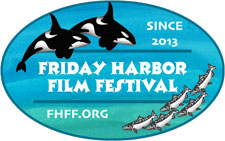 Thir­teen-year-old Dylan D'Haeze, a res­i­dent of Orcas, reminds us that being a local hero does not have an age restric­tion. If you care about the plan­et and every­thing that lives with­in it, and have the courage to share this mes­sage with the world, pow­er­ful things can happen.
What began as a seem­ing­ly sim­ple quest — to know more about plas­tic and its impact on the envi­ron­ment — has thrust this young and thought­ful first-time film­mak­er into a lead­er­ship role. Dylan con­tin­ues to ask poignant and impor­tant ques­tions, but he is now going far beyond sat­is­fy­ing his own curios­i­ty to active­ly encour­ag­ing oth­ers to take action.
Dylan's doc­u­men­tary, Plas­tic is For­ev­er, will be fea­tured at this year's Fri­day Har­bor Film Fes­ti­val. It con­tains a pow­er­ful mes­sage about the neces­si­ty of reduc­ing our depen­dence on plas­tic. Since the film was released, Dylan has been shar­ing his mes­sage across the coun­try at var­i­ous film fes­ti­vals, schools and envi­ron­men­tal­ly-based com­mu­ni­ty events.
The film has already received mul­ti­ple awards, includ­ing the Envi­ron­men­tal Award from the pres­ti­gious Inter­na­tion­al Ocean Film Fes­ti­val in San Fran­cis­co, Best Children's Film at the Inter­na­tion­al Wildlife Film Fes­ti­val, and Awards of Mer­it in both the Nature / Envi­ron­ment / Wildlife and Young Film­mak­er cat­e­gories at the Best of Shorts Film Fes­ti­val. Plas­tic is For­ev­er has also become part of a grow­ing series, How Kids Can Change the Plan­et. For more infor­ma­tion about this project, vis­it www.kidscansavetheplanet.com.
Dylan and his par­ents, Dawn and Kevin D'Haeze, will be attend­ing November's film fes­ti­val here, and have agreed to par­tic­i­pate in our Young Film­mak­ers Project by help­ing to men­tor oth­er aspir­ing film­mak­ers who have impor­tant mes­sages to share and sto­ries to tell. We believe that when kids like Dylan show ini­tia­tive, and are pos­i­tive and pur­pose­ful in their approach, they will accom­plish won­der­ful things.
Thank you, Dylan, for being our Local Hero. Your spir­it and actions inspire all of us, and we can­not wait to see where your next quest leads!
Karen Palmer
Pro­duc­er, FHFF
You can support the San Juan Update by doing business with our loyal advertisers, and by making a one-time contribution or a recurring donation.