Meet Orcas Island Author Robert Dash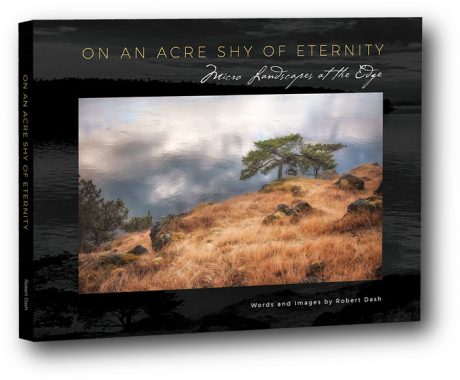 "On An Acre Shy of Etermity, Micro Landscapes at the Edge"
Be sure to set aside some time to stop in Griffin Bay Bookstore on Saturday, September 16, 2:00—4:00 pm to see what Orcas Island author and photographer, Robert Dash, has created in his gorgeous book, On An Acre Shy of Eternity, Micro Landscapes at the Edge. He'll be there to talk to customers about his foray into his own landscape and the magic he captured there.
In On An Acre Shy of Eternity, Micro Landscapes at the Edge, Robert Dash takes nature exploration to new depths. He views the mystery of this land as one might read a book, promoting a visual, poetic, and ecological literacy that he calls "locavore art and ecology"—the art, science and discovery that beckons in one's own front yard. Over a three-year period he traveled from bluff to tree, feather to seed on a near-acre of forest, meadow and cliff shouldering the Salish Sea. Using metaphors, a camera, and a scanning electron microscope, Dash features beauty at scales ranging from craters on the moon to grains of pollen a few thousandths of an inch wide.
Griffin Bay Bookstore, Saturday, September 16, 2:00—4:00 PM
About the Author

Robert Dash is an Orcas Island photographer, naturalist and educator whose book invites readers on a wild, contemplative, miniature hike. His photographs have been published by National Geographic, Time, The Week, and Lensculture, and have appeared in galleries and juried shows around the country. Dash presented the Orcas TedX talk, "The Intercourse of Nature: It's What We Are" in 2016. Several images in his book were created with the scanning electron microscope at Friday Harbor Labs.