Art for Fun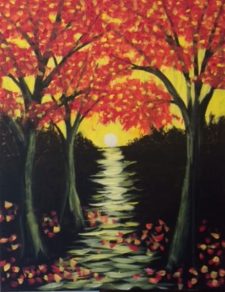 Hi Everyone,
The next Art for Fun, paint pARTy, is coming up November 15! Enjoy an evening of step by step instruction as local artist, Kristen Abramson, guides you through the process of completing your own acrylic painting.
Partner up with friends, family, working buddies and register online for this fun experience at www.sjima.org. The cost is only $35. All supplies are provided. Time is 5:45-8:00pm. Located in the workshop room at San Juan Islands Museum of Art.
Class size is limited to 15. Our painting for November 15 is "Fall Leaves."
Private Party?? Contact Debbie if you would like to organize a private Art for Fun party, minimum of 6. You pick the date and the painting from our Painting Library and we provide the rest! A great way to celebrate with your employees, family coming to visit or just a girls (guys) night out for the holidays!
Warmly,
Debbie Pigman – Art for Fun Coordinator SJIMA
378-0951 dpigman1234@yahoo.com