Women's Fund Awards $8,000
Women's Fund awards another $8,000 in grants to local non-profits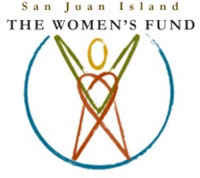 The San Juan Island Women's Fund is a pooled donor-advised fund of the San Juan Island Community Foundation. For nearly 15 years, more than 100 local women have pooled their annual membership fee of $100 or more to fund local non-profit projects.
In October, 6 proposals were selected by Women's Fund members to share in a total of $8,000 in allocated grant funds. The projects included: Family Umbrella Group (Preschool Scholarships), San Juan Island Family Resource Center (Special Needs Parent Support Group, Kindergarten Kickoff Event and Spanish Language for Human Services Professionals), San Juan Island Library (English Language Learning) and Island Stage Left (Equipment Replacement).
Founded in 2003, the San Juan Island Women's Fund has a 3-pronged mission: to educate and expand the pool of local women engaged in philanthropy, to combine and build resources in order to make a significant impact in our community and to increase awareness of important issues facing San Juan Island non-profit organizations. To date, the Women's Fund has donated $217,000 to more than 40 local non-profits via the Foundation's grant program.
Women's Funds have been established all over the country to engage women in the power of collective giving. If you want to make an impact through local collective grant-making, consider joining today! You can sign up online by visiting sjiwomensfund.org or by calling Carrie Unpingco at the San Juan Island Community Foundation at 360-378-1001. For more information about the Women's Fund, contact our facilitator, Amy Saxe-Eyler, at amysaxe@me.com or 360-317-8120.