Arts Commission Openings
Town accepting applications for open positions on Friday Harbor Arts Commission.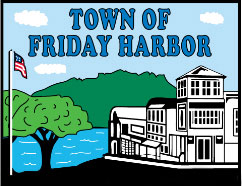 The Friday Harbor Arts Commission (FHAC) is seeking two new members to fill three-year appointments commencing January 1, 2018. Commissioners appointed to these unpaid, volunteer positions will represent the interests of the Town, community, and local artists in advising the Town Council on the cultivation, selection, acquisition, and placement of public art.
Those with experience, background, or involvement with visual, performing, or literary arts should provide Mayor Carrie Lacher with a Letter of Interest and examples of their art and/or experience. Applicants are advised to review the FHAC Guidelines posted under "Arts Commission" in the Agenda tab at the Town of Friday Harbor web site: www.fridayharbor.org. Application review will continue until the positions are filled.
Questions and application letter should be directed to the Town of Friday Harbor, ATTN: Julie Greene, 60 Second Street, PO Box 219, Friday Harbor, WA 98250; julie@fridayharbor.org; (360) 378-2810, ext. 229.
The FHAC was formed in February 2015 with Mayor Lacher's appointment of eight commissioners, including one non-voting youth member. Meetings are held the second Tuesday of each month.