Griffin Bay Bookstore Annual Sale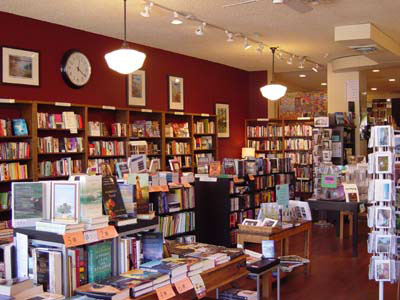 Anniversary Open House on Saturday, November 11, 10:00 am—6:00 pm
20% off on all books in the store
It's that time of year again, and Griffin Bay Bookstore will hold its annual Open House and Sale on Saturday, November 11, 10:00 am—6:00 pm to celebrate 38 years of bookselling. You'll find the bookstore brimful of the latest in fiction and nonfiction, with 20% off all books on the shelves. The annual Open House and Sale is Laura Norris' way of thanking our island community for loyal support and ongoing patronage. Be sure to stop in for homemade cookies and coffee or apple cider, and shop to your heart's content.
Take advantage of the sale and start your holiday shopping. Look for a wide variety of new fiction on the big table on your left as you enter the store. On the non-fiction table, you'll find the latest memoirs, interesting takes on politics, history, economics, and nature. There are new paperbacks to discover, beautiful editions of classics, cookbooks with gorgeous illustrations and imaginative recipes from all over the globe. If you're looking for ways to tweak your creativity during long winter nights, see the arts and crafts section.
As usual the bookstore is stocked with interesting gift items, especially for the holidays. There's an ample supply of Advent calendars, stationery, boxed cards, holiday cards, thank you notes, journals, the traditional-looking Moleskines, others more colorful and zany. There are plenty of 2018 day planners and calendars to get you off on the right foot in January. And jigsaw puzzles and games galore for both children and adults. For entertainment during stormy weather, Griffin Bay Bookstore has a great selection of CDs and DVDs. If you're hankering for a comedy, a musical, or a good spy story, or even a series you can binge-watch, Griffin Bay Bookstore handpicks a surprising variety of movies as well as boxed sets of BBC productions and other TV series.
Come in and browse, ask staff for recommendations, chat with your neighbors, and enjoy the warm and cozy atmosphere of a favorite institution in Friday Harbor.
Griffin Bay Bookstore is part of IndieBound, an off shoot of the American Bookseller's Association, developed to promote the benefits of independent bookstores across America as well as the benefits of shopping or buying locally. When you shop locally and support your independent bookstore you discover what's new, what's great to read. And you nurture your own community and its well-being, just one more reason to attend Griffin Bay Bookstore's Open House and Anniversary Sale on Saturday, November 11, 10:00—6:00 p.m.! It's a community tradition.