Paddling With Spirits: A Solo Kayak Journey
Posted December 9, 2017 at 5:59 am by Tim Dustrude
Join Grif­fin Bay Book­store at the San Juan Island Library on Decem­ber 13th at 7:00 pm for an excit­ing evening with Lopez­ian Irene Skyriv­er when she presents her won­der­ful book, Pad­dling With Spir­its, the sto­ry of her solo kayak trip from Alas­ka back to the islands.
Inspired part­ly by her own spir­it of adven­ture, and part­ly by the sto­ries of her native coastal ances­tors, Irene Skyriv­er cel­e­brat­ed her for­ti­eth year of life with a solo kayak voy­age, pad­dling from Alas­ka to her home in Washington's San Juan Islands.
Pad­dling with Spir­its: A Solo Kayak Jour­ney inter­weaves the true account of her jour­ney with gen­er­a­tional sto­ries hand­ed down and vivid­ly re-imag­ined. Begin­ning with her great- grandmother's seduc­tion of an Indi­an fight­er turned trad­er, and fol­low­ing her ances­tors on both sides through oil booms, orphan­ages, wartime romances, dance halls and cat­tle ranch­es, Pad­dling with Spir­its dips like a pad­dle itself between the sto­ries of those who inspired her, and Irene's own jour­ney down a lone­ly coast.
As she encoun­ters harsh weath­er, wolves, bears, whales, and the wild beau­ty of the coastal waters, she reflects on her own life and on the lives of the many peo­ple she meets along the way, before her final tri­umphant return home. Pad­dling with Spir­its is a wild, brave, and thrilling­ly orig­i­nal adventure.
"The inter­weav­ing of the past and the present form a com­plex and beau­ti­ful fab­ric that car­ries this sto­ry beyond that of a sim­ple fam­i­ly his­to­ry." —Steve Brown, past cura­tor, Seat­tle Art Muse­um, Pacif­ic NW Coast Native collection
About the Author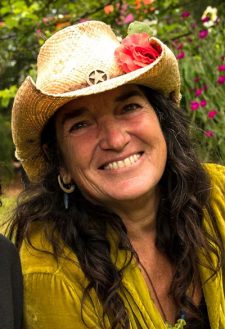 A Wash­ing­ton native, Irene Skyriv­er was born in Port Townsend and raised in the coun­try. She moved with her chil­dren and hors­es to Lopez Island in the San Juan Islands thir­ty-eight years ago, where she lived off-the-grid, and as a sin­gle par­ent, spent most of those ear­ly years grow­ing a gar­den, and let­ting the out­doors and beach­es be her family's sanc­tu­ary, inspi­ra­tion, and teacher.
She orga­nized parades for Earth Days, Inter­na­tion­al Women's Days, and was one of the ear­ly founders and shapers of the Sum­mer and Win­ter Sol­stice cel­e­bra­tions, as well as Pas­sage Rites cer­e­monies for youth. A poet, dancer, and a singer of tra­di­tion­al Earth Cir­cle Songs, writ­ing came lat­er for her, most­ly because one has to sit down to do it!
Irene received a full fel­low­ship to Fish­trap Writ­ers Con­fer­ence, based on a sub­mis­sion from Pad­dling With Spir­its. This was fol­lowed by a grant to fin­ish the work. In between involve­ment in com­mu­ni­ty, her mar­ket gar­den, and milk­ing goats, she plans to sit down and accom­plish these new writ­ing endeav­ors and is at work on her sec­ond book, a novel.
You can support the San Juan Update by doing business with our loyal advertisers, and by making a one-time contribution or a recurring donation.