Shelter Opens Tonight
Posted December 19, 2017 at 5:49 am by Tim Dustrude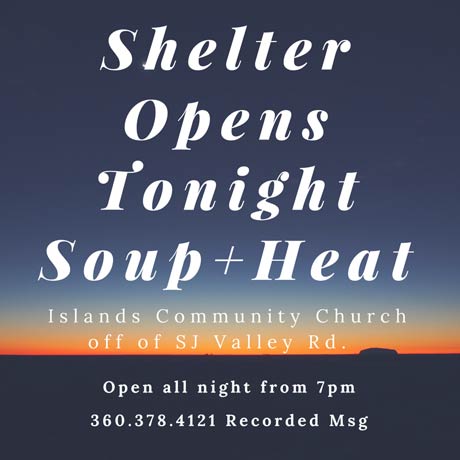 The Severe Weath­er Shel­ter will open for the first time on Tues­day, Decem­ber 19 at approx­i­mate­ly 7:00 pm. There will be a vol­un­teer ori­en­ta­tion and set-up at 5:30. Any­one inter­est­ed in learn­ing more about the Shel­ter and its oper­a­tion is invit­ed to attend. We cur­rent­ly have vol­un­teers to staff two days, and we are hope­ful more will step up to keep it open dur­ing the approx­i­mate­ly five cold days to fol­low. A flu­id, chang­ing fore­cast makes it dif­fi­cult (but not impos­si­ble!) to antic­i­pate. The loca­tion for this first rota­tion is Islands Com­mu­ni­ty Church, 127 Gilbert Lane just out of town off of San Juan Val­ley Road.
Please call the Unit­ed Way of San Juan Coun­ty phone num­ber, (360) 378‑4121, for a cur­rent record­ed mes­sage about Shel­ter openings.
Vol­un­teers can sign up on our SignUp Genius page. Each shift must have min­i­mum of 2 vol­un­teers. By click­ing the link to the Sign Up Genius page at any time at SignUp­Ge­nius http://www.signupgenius.com/go/10c094caca823a5f94-severe1, any­one can see whether or not we are able to open. Accord­ing to sign ups at the time of this release, we are hope­ful that a few more vol­un­teers will step up to fill sev­er­al of the overnight slots for the antic­i­pat­ed cold snap this week. One of the overnight slots offers a $100 stipend. Back­ground checks are required of any volunteers.
There are three dif­fer­ent shifts per opening:
EVENING SHIFT — SETUP/SOUP DINNER: Approx. 7 pm-11 pm (pos­si­bly earlier)
OVERNIGHT SHIFT: 10:30 pm — 6:30am (Paid OR Vol­un­teer Slots Available)
MORNING SHIFT — BREAKFAST/CLEAN-UP: Next Day / 6am — CLOSED/PACKED UP (approx 8 am close and lat­est 9 or 10 cleaned/packed/ready for next activation)
If you would like to vol­un­teer but have not yet seen the train­ing video, that's fine! Sign up for a train­ing slot. We will get the mate­ri­als to you.
You can support the San Juan Update by doing business with our loyal advertisers, and by making a one-time contribution or a recurring donation.