Flu Activity Increasing In Our Region
Posted January 15, 2018 at 5:50 am by Tim Dustrude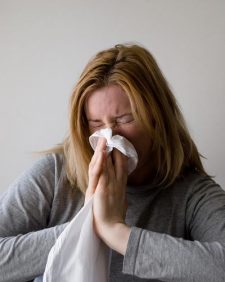 Flu activ­i­ty and hos­pi­tal vis­its for flu-like symp­toms are rapid­ly increas­ing in Wash­ing­ton. "While flu cas­es are on the rise in San Juan Coun­ty, we are not cur­rent­ly see­ing the lev­els report­ed in the state and region," says Dr. Frank James, Health Offi­cer for San Juan Coun­ty. "How­ev­er, we can rea­son­ably expect our coun­ty to begin see­ing an increase in flu cas­es now that flu is active in the region and chil­dren are return­ing to school. The influen­za vac­cine this year appears to be sig­nif­i­cant­ly less effec­tive, espe­cial­ly against the most com­mon cir­cu­lat­ing virus; how­ev­er vac­ci­na­tion is still one impor­tant way to pro­tect against infec­tion — espe­cial­ly for those with ele­vat­ed risk of com­pli­ca­tions, hos­pi­tal­iza­tion and death."

San Juan Coun­ty Health & Com­mu­ni­ty Ser­vices urges all indi­vid­u­als to cov­er your cough, wash your hands and stay home from school or work when you are sick with cough and fever.
Cer­tain peo­ple are at high risk of seri­ous flu-relat­ed com­pli­ca­tions – includ­ing chil­dren younger than 2 years old, peo­ple 65 and old­er, preg­nant women, asth­mat­ics, indi­vid­u­als that have had strokes, peo­ple that take immuno­sup­pres­sive med­ica­tions, all Amer­i­can Indi­ans and Alas­ka Native, over­weight indi­vid­u­als (BMI greater than 40) and all res­i­dents of long-term care facilities.
If you are sick with influen­za like symp­toms and you are in a high-risk group, ear­ly treat­ment is very impor­tant. Start­ing antivi­ral med­ica­tions can reduce the risk of hos­pi­tal­iza­tion and death in high-risk indi­vid­u­als, if the med­ica­tions are start­ed with­in 48 hours of onset of symptoms.
Pro­tect your­self and your fam­i­ly by get­ting vac­ci­nat­ed as soon as pos­si­ble – and by edu­cat­ing your­self, co-work­ers and fam­i­ly on the impor­tance of get­ting a flu vac­cine, and stay­ing home if you have flu symptoms.
For more infor­ma­tion on where get flu shot, con­tact your health care provider or San Juan Coun­ty Health & Com­mu­ni­ty Ser­vices: 360–378-4474.
The Flu: What To Do If You Get Sick
You can support the San Juan Update by doing business with our loyal advertisers, and by making a one-time contribution or a recurring donation.