Happy Birthday, Wanda June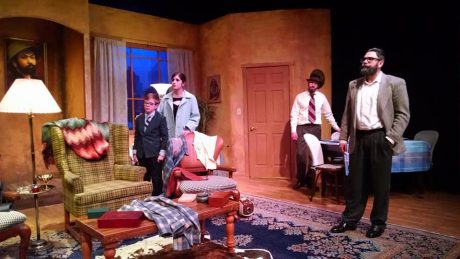 Happy Birthday, Wanda June returns to San Juan Community Theatre this weekend with four performances, including a "Pay What You Can" show on Thursday at 7:30 p.m.
Friday and Saturday's performances are also at 7:30 pm; Sunday's 2:00 pm matinee features a post-show Q & A with cast and crew.
Directed by Tony Vivenzio, the satirical play by Kurt Vonnegut, Jr. takes aim at phony heroes and macho swagger, addresses issues such as sexism, racism, homophobia, and domestic abuse, and is for mature audiences only.
Final shows for Happy Birthday, Wanda June are March 1-3. Please note: seating is limited in the Gubelman, so reserved tickets are suggested. www.sjcheatre.org or 360 378 3210
Cast List:
Penelope Ryan – Manda Dietz
Harold Ryan – Flash Dietz
Paul Ryan – Myles Posenjak
Looseleaf – Keith Keyser
Herb Shuttle – John Cornell
Woodly – Douglas Schirmer
Wanda June * – ElseDora Arendt & Kira Clark
Mildred – Carrie Jewett
Von Konigswald – Dennis Busse
*The role of Wanda June will be played by ElseDora Arendt on February 16-18 and 24 & 25. Kira Clark will play the role on February 22-23 and March 1-3.