MERT On Duty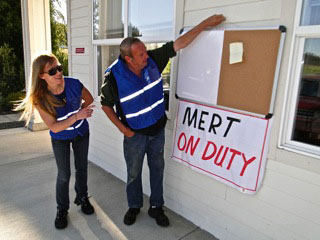 The San Juan Island Fire Department's Major Emergency Response Team (MERT) is looking for volunteers to assist in our island's welfare by collecting and coordinating the exchange of information during major emergencies, such as earthquakes. Although this may sound intimidating, the only requirements are living within walking distance of a fire station and not volunteering for another emergency service entity.
The MERT volunteer program is part of the San Juan Island Fire Department and training is minimal. This specialized team provides an outlet for community members to give and receive pertinent communication in the event of a disaster. The primary responsibilities are staffing each neighborhood station, collecting information to relay to emergency headquarters, and disseminating information from headquarters back to each neighborhood.
If you would like more information about this program or would like to sign up, an informational meeting will be held March 22nd at 6:00 pm at Station 31, 1011 Mullis Street. You may also contact the fire department at 378-5334.