Crown Jewel Wilderness
Posted March 16, 2018 at 6:36 pm by Tim Dustrude
Crown Jew­el Wilder­ness: Cre­at­ing North Cas­cades Nation­al Park by Lau­ren Danner
Grif­fin Bay Book­store and the San Juan Island Library invite all the park's afi­ciona­dos to attend a book talk and slide show with author Lau­ren Dan­ner at the Library on Wednes­day, March 21, 7:00 pm. If you spend time in the park or sim­ply dri­ve over the North Cas­cades High­way, you'll sure­ly enjoy hear­ing Lau­ren talk about the park's cre­ation and what makes it unique.
The North Cas­cades Nation­al Park cel­e­brates its 50th anniver­sary in 2018, and a new book by Lau­ren Dan­ner, Crown Jew­el Wilder­ness: Cre­at­ing North Cas­cades Nation­al Park, offers the first com­pre­hen­sive account of its creation—a nar­ra­tive that involves more than a decade of grass­roots activism and polit­i­cal maneuvering.
Wide­ly con­sid­ered the first wilder­ness nation­al park in the Unit­ed States, its most scenic and undis­turbed areas were pre­served with­out roads or oth­er accom­mo­da­tions, adding to its crown jew­el image. The sto­ry includes the unprece­dent­ed turn of events that left the Nation­al Park Ser­vice and Unit­ed States For­est Ser­vice, agen­cies that often had adver­sar­i­al view­points and objec­tives, work­ing side by side.
Remote, rugged, and spec­tac­u­lar­ly majes­tic, with stun­ning alpine mead­ows and jagged peaks that soar beyond ten thou­sand feet, the North Cas­cades range ben­e­fit­ed from geo­graph­ic iso­la­tion that shield­ed its moun­tains from exten­sive resource extrac­tion and devel­op­ment. Efforts to estab­lish a park began as ear­ly as 1892, but gained trac­tion after World War II, and author Lau­ren Dan­ner explores major influ­ences lead­ing to its designation.
Seat­tle expe­ri­enced an influx of young professionals—many of them inter­est­ed in recre­ation and opposed to increased logging—who began to pres­sure gov­ern­ment offi­cials. The For­est Ser­vice released a con­tro­ver­sial pro­pos­al for a Glac­i­er Peak wilder­ness. The envi­ron­men­tal move­ment became more unit­ed, orga­nized, and sophis­ti­cat­ed. Nation­al­ly and region­al­ly, peo­ple elect­ed exec­u­tive branch­es that were friend­ly to con­ser­va­tion causes.
Actions by Pres­i­dent John F. Kennedy, Inte­ri­or Sec­re­tary Stew­art Udall, and Sec­re­tary of Agri­cul­ture Orville Free­man, along with Wash­ing­ton State sen­a­tor Hen­ry "Scoop" Jack­son and gov­er­nor Daniel Evans, ush­ered in a new era of polit­i­cal coop­er­a­tion. The politi­cians' envi­ron­men­tal con­cerns pro­duced the 1964 Wilder­ness Act, a vari­ety of task forces, pro­pos­als, debates, and hear­ings, and ulti­mate­ly, a bill that would per­ma­nent­ly pro­tect America's Alps, the North Cascades.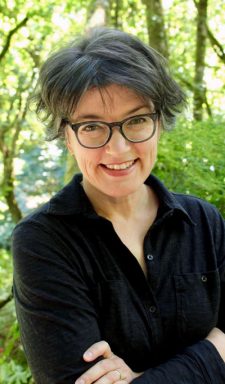 Final­ly, the book dis­cuss­es chal­lenges that fol­lowed the bill's pas­sage, such as the threat of cop­per min­ing or high­er dams on the Skag­it, and con­cludes with an exam­i­na­tion of con­tem­po­rary issues, like the rein­tro­duc­tion of griz­zly bears and wolves.
About the Author
Lau­ren Dan­ner, PhD, is a writer and his­to­ri­an based in Olympia, Wash­ing­ton. She focus­es on pub­lic lands pol­i­cy, Pacif­ic North­west and envi­ron­men­tal his­to­ry, and out­door recre­ation. A for­mer col­lege pro­fes­sor, muse­um direc­tor, and Wash­ing­ton State field coor­di­na­tor for the Lewis and Clark bicen­ten­ni­al, she now writes at laurendanner.com.
You can support the San Juan Update by doing business with our loyal advertisers, and by making a one-time contribution or a recurring donation.