Crown Jewel Wilderness
Crown Jewel Wilderness: Creating North Cascades National Park by Lauren Danner
Griffin Bay Bookstore and the San Juan Island Library invite all the park's aficionados to attend a book talk and slide show with author Lauren Danner at the Library on Wednesday, March 21, 7:00 pm. If you spend time in the park or simply drive over the North Cascades Highway, you'll surely enjoy hearing Lauren talk about the park's creation and what makes it unique.
The North Cascades National Park celebrates its 50th anniversary in 2018, and a new book by Lauren Danner, Crown Jewel Wilderness: Creating North Cascades National Park, offers the first comprehensive account of its creation—a narrative that involves more than a decade of grassroots activism and political maneuvering.
Widely considered the first wilderness national park in the United States, its most scenic and undisturbed areas were preserved without roads or other accommodations, adding to its crown jewel image. The story includes the unprecedented turn of events that left the National Park Service and United States Forest Service, agencies that often had adversarial viewpoints and objectives, working side by side.
Remote, rugged, and spectacularly majestic, with stunning alpine meadows and jagged peaks that soar beyond ten thousand feet, the North Cascades range benefited from geographic isolation that shielded its mountains from extensive resource extraction and development. Efforts to establish a park began as early as 1892, but gained traction after World War II, and author Lauren Danner explores major influences leading to its designation.
Seattle experienced an influx of young professionals—many of them interested in recreation and opposed to increased logging—who began to pressure government officials. The Forest Service released a controversial proposal for a Glacier Peak wilderness. The environmental movement became more united, organized, and sophisticated. Nationally and regionally, people elected executive branches that were friendly to conservation causes.
Actions by President John F. Kennedy, Interior Secretary Stewart Udall, and Secretary of Agriculture Orville Freeman, along with Washington State senator Henry "Scoop" Jackson and governor Daniel Evans, ushered in a new era of political cooperation. The politicians' environmental concerns produced the 1964 Wilderness Act, a variety of task forces, proposals, debates, and hearings, and ultimately, a bill that would permanently protect America's Alps, the North Cascades.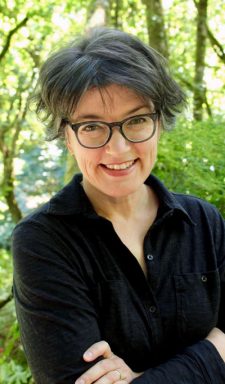 Finally, the book discusses challenges that followed the bill's passage, such as the threat of copper mining or higher dams on the Skagit, and concludes with an examination of contemporary issues, like the reintroduction of grizzly bears and wolves.
About the Author
Lauren Danner, PhD, is a writer and historian based in Olympia, Washington. She focuses on public lands policy, Pacific Northwest and environmental history, and outdoor recreation. A former college professor, museum director, and Washington State field coordinator for the Lewis and Clark bicentennial, she now writes at laurendanner.com.