Hermosa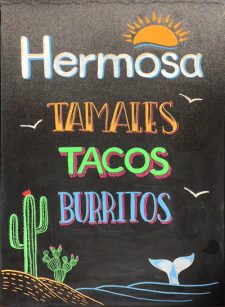 There's a new Mexican restaurant in town. It's called Hermosa and it's down there where Pablito's used to be, behind the Golden Triangle. It's owned by Ernest and Karyn Moreno and they're having their soft opening this weekend.
Today through Sunday they will be open 11am – 5pm. On Monday they will be closed to regroup and then Tuesday they will open for the rest of the week, 11am – 7pm, and those will be their hours in the future, Wednesdays through Mondays (Closed Tuesdays).
Coming soon will be a bar upstairs with later hours once they have their liquor license.
Currently on their menu: Tamales, Street Tacos, Burritos, Quesadillas and a Hermosa exclusive: the ¡Tamarrìto! – A Burrito Grande "spiked" with a pan-fried tamale! Choose pork, chicken, beef or vegan options.