Joan White – 1941 – 2018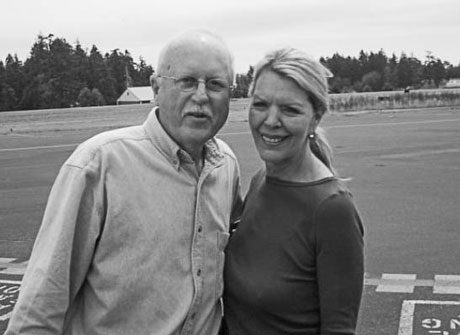 Joan Petersen White, age 76, died on March 10, 2018 in her home with friends by her side. Joan was born on August 25, 1941 in Watsonville, California to Jeanne Sambuck Petersen and Allan Edwin Petersen.
Joan grew up in Watsonville and after graduating college, she owned and operated an agricultural produce transportation business for 21 years. In 1989, Joan married Phil White, her high school sweetheart and in 1991 they moved to Friday Harbor and began a new life together. Joan and Phil loved their life in Friday Harbor, and they were an integral part of the community doing what they loved best: having fun and being of service.
Joan's personality and love of planes and flying that she shared with Phil were a perfect fit for her and Kenmore Air and the Friday Harbor Air Terminal. For 24 years she greeted passengers and oversaw ground handling of planes at the Friday Harbor Airport. She continued there on weekends even after she moved into the legal field. She is remembered for "turning triple sections" and showing up at the terminal in her pajamas at night to help out when needed. In her resignation letter she stated: "I am proud to have been part of the Kenmore Family and my service to the passengers and the airport community". The Friday Harbor Airport community was very special to Joan and every Sunday she would bring donuts for all and tend to the airport's Memorial rose garden and terminal plants.
Joan was legal assistant to John O. Linde until 1994 when she joined the office of the County Clerk. In 2006, she was elected County Clerk and reelected in 2010 and 2014 based in large part on her "can do" approach to public service. Joan loved being in the office, which she directed from home during her brief illness. Her office overlooked the flag at the county courthouse and in her honor the flag is flying at half-staff the week after her death.
Joan had a quiet sense of strength and purpose. She was a devoted wife to Phil, who she loved deeply, and she was steadfast in her roles as daughter, mother, grandmother and civil servant. Joan found comfort in gardening and took great pride in her home, finding happiness in the ritual of daily life. Joan will be remembered for her sense of style; one of her favorite activities was exploring funky new stores and finding hidden treasures.
Smart, tough and sweet in her way, a friend calling her "a farm girl who shopped at Bergdoff Goodman", Joan will be greatly missed by those who had the opportunity to know her. Joan was loved and appreciated as a mother and grandmother by Phil's three children and two grandchildren: Christine, William and Jennifer White (husband Michael Jordan), and Catherine Cappelletti Riccardi and Henry White. Joan is survived by her sister Susan McBride of Watsonville, cousin Donna Dixon of Rancho Mirage, CA, and sister in law Janet Belgard (husband Bob Belgard) of Watsonville.
A gathering at the Friday Harbor Airport terminal lobby to celebrate Joan's life will be held on Saturday March 17, 2018 at 1:30-3:30 pm.
In lieu of flowers donations may be made in Joan's memory to St. Jude's Children's Research Hospital.