Dudley Dance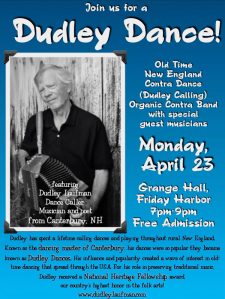 Join the SJI Grange for a "Dudley Dance" at the Grange Hall in Friday Harbor on Monday April 23rd.
Dudley Laufman is a legendary contra dance caller and musician who has spent a lifetime calling and playing dances throughout rural New England. His influence and popularity created the wave of interest in old-time dancing and music that has spread through the USA. For his role in preserving traditional music Dudley has received a National Heritage Fellowship award, our country's highest honor in the folk arts.
We are proud and excited to have Dudley here in Friday Harbor to play and call for our Monday night dance, which is in keeping with the traditional events that he has championed for decades.
The dance will be free, taking place at the Grange Hall in Friday Harbor, from 7 till 9. Along with Dudley will be our local Organic Contraband, joined by guest musicians from Seattle. Contra dance is easy and fun for all, each dance is taught, no need to bring a partner, everyone is welcome.
This will be a special opportunity experience a real national treasure in our folk heritage, plus having a really good time!