Kids Triathlon
Posted May 22, 2018 at 5:47 am by Tim Dustrude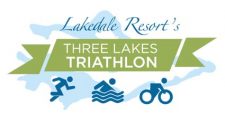 Inau­guar­al Kids Triathlon Announced
Island Ath­let­ic Events, LLC, pro­duc­er of the 17th annu­al Kings San Juan Island Marathon, Half Marathon and 10K and the sixth annu­al Three Lakes Triathlon announced the first annu­al Kids Triathlon at Lakedale Resort.
"It's some­thing we've talked about over the win­ter. Lakedale's Gen­er­al Man­ag­er, Karl Bruno, has been very sup­port­ive of adding this fam­i­ly ori­ent­ed event and we have the infra­struc­ture so why not?" said Paul Hop­kins, Race Director.
The kids triathlon hap­pens on Sat­ur­day, June 16 in con­junc­tion with the adults race and is open to kids aged 7–15. Kids must be com­fort­able in the water. Par­tic­i­pants will report to Lakedale at 8:30 a.m. and Kids Triathlon Race Direc­tor Mis­sy Ara­ta will give a thor­ough pre-race meet­ing. The race will begin after the last adult par­tic­i­pant is out of the water.
The entire course is on Lakedale prop­er­ty and fea­tures a 50 yard swim, 1 mile ride (dirt road) and half-mile run.
To reg­is­ter, vis­it Active.com (search Three Lakes Triathlon) or come by San Juan Island Fit­ness. Cost is $40 per person.
You can support the San Juan Update by doing business with our loyal advertisers, and by making a one-time contribution or a recurring donation.