Local Author Susan Wingate's New Book is an Immediate Bestseller!
Wingate fans have been eagerly anticipating her new psychological thriller, The Death of Vultures, a book that has been rocketing up the bestseller list at Amazon since its release on Saturday.
Wingate's books, are sometimes referred to as "psychological suspense women's fiction." I wondered if that was because both the protagonist and the author are female. Here is what Susan says… "Women's fiction, specifically stories bending toward family drama and mystery, have always resonated in me. Since a kid, I enjoyed watching movies like Cat on a Hot Tin Roof, reading Tennessee Williams, books like A Doll's House, anything Hitchcock. Those stories got into my bones. I love stories about the human condition where family and character are central to the story's theme."
The Death of Vultures stands ready to deliver on those early inspirations. Here is an excerpt from the back cover… "When daughter, Lily, dies from an apparent heroin overdose, Meg becomes embroiled in a world as exotic as it is criminal after getting swept up in the drug world. When her husband ends up dead too, Meg has nothing left to lose and she goes on the hunt. But will she be the hunter or the hunted? Nothing is as it seems."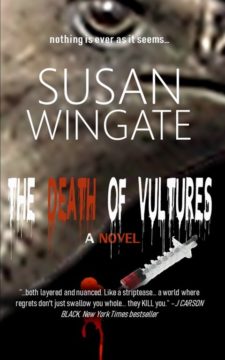 Susan leaves a message for her readers on her Amazon page, a message that may make her work all the more intriguing to her island readers… "That you have added this story to your library means the world to me. Possibly, because this story goes deep into a fictional crime world that I've set on the island where we live. Like any community, our small island has a dark underbelly. In VULTURES, I've chosen to bring that darkness into the light. Of course, as a fictionalized tale one I hope rings true for the reader." And from her webpage… "Question: Can a sense of place living on an island in the Pacific Northwest, where wildlife is as abundant as rain, not influence my writing? Simply put, place desperately influences my writing".
As our island's seasons turn toward the dark and rainy the time seems right to cozy up with a good thriller. Be fore-warned. I leave you with the words of James Rollins, New York Times bestseller of The Demon Crown… " I'm still reeling after finishing Susan Wingate's latest, The Death of Vultures. Brilliantly written, here is a tale that grips you by the throat from the opening prologue to the gut-punch of an ending. Both tender and brutal, intelligent and visceral, each page carries a reader further down a harrowing path… this novel will leave an indelible mark on your soul."
Link to: Susan Wingate