Sale of IIMC Building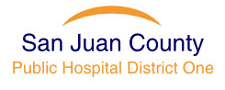 San Juan County Public Hospital District #1 is pleased to announce that yesterday (9/11/18) it voted unanimously to accept a sales agreement with HWV Property LLC of Friday Harbor, WA, to sell the Inter Island Medical Center (IIMC). The agreed upon price is $875,000 with a 21 day feasibility study. If the sale is canceled after the feasibility study the buyer has put up $15,000 in earnest money.
The district has had several offers over the summer, indicating strong interest in the property, and is grateful that the IIMC property could finally be used once more. On June 28, 2018, the board passed a resolution (Res 18-490) to dedicate proceeds from the sale of the IIMC to reduce the existing SJIEMS building bond obligation.
This pending sale serves the public both in strengthening the financial positions of SJCPHD #1/SJIEMS and in potentially bringing back into use the vacant building and/or lot of the IIMC.
Superintendent Hutchins said, "It's no secret we have negotiated several sales contracts this summer, but this has only increased interest in the building. We ended up being able to accept a strong offer on this fourth sales agreement. The amount of interest we have had this summer has been encouraging as well as the fact that a final sale would happen before the start of another budget year."
Questions should be directed to the Office of the Superintendent, SJCPHD #1, at 360-378-2857. You may also email Superintendent Hutchins at hutchins@sjcphd1.org or the Board Recording Secretary Nathan Butler, butler@sjcphd1.org.
Pamela Hutchins
Superintendent