2018 Great Washington Shakeout
Posted October 12, 2018 at 5:45 am by Tim Dustrude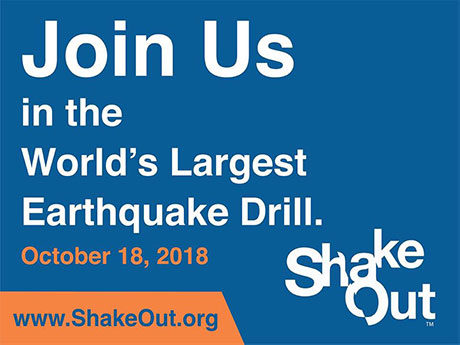 It's just one week until the 2018 Great Wash­ing­ton Shake­out earth­quake drill on Octo­ber 18th. You can join the grow­ing num­ber of islanders who are prepar­ing for "the big one" by sign­ing up online. It's quick and easy to do at: http://shakeout.org/washington
So far, more than 700 peo­ple in the islands are involved. This includes school dis­tricts, fire depart­ments, a day care, coun­ty gov­ern­ment, local busi­ness­es, and house­hold participants.
When you reg­is­ter you'll receive Shake­out news and pre­pared­ness info, and be count­ed among those mak­ing prepa­ra­tions. The recent hur­ri­canes in the South­east have pro­vid­ed plen­ty of exam­ples of the con­se­quences of nat­ur­al dis­as­ters, and the dif­fer­ence that pre­pared­ness makes in how com­mu­ni­ties survive.
You can help pre­pare your fam­i­ly and com­mu­ni­ty by par­tic­i­pat­ing in the Great Wash­ing­ton Shake­out drill. If you have ques­tions or would like help get­ting start­ed, con­tact the DEM office at, 370‑0587, or email dem@sanjuandem.net. Sign up now, and "Be Pre­pared, It's The Island Way!"
For more info about the impacts of quakes and tsunamis in the islands, vis­it www.sanjuandem.net/quakes
You can support the San Juan Update by doing business with our loyal advertisers, and by making a one-time contribution or a recurring donation.