Dan Levin Originals Closed
Tamara Weaver shares this with you…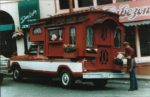 "Thank you! Thank you! Thank you!" Dan Levin Originals has closed it's doors, and after 34 years in business, Dan and Diane Levin are dancing off into the sunset.
Dan and Diane's original hand-crafted gold pendants – the Islands heart… the orca tail with sparkle of diamond… those pendants which catch me staring when worn by fortunate friends, are now collectables. We've missed our chance. Because, on August 14 this year, on Dan's 80th birthday, he knew it was time to close the doors to their cute little shop on 50 First Street and travel!
By the way, Dan's secret to looking so great at 80 is walking 2-4 miles, every day, and being married to his wonderful wife, Diane. They were married in this van 50 years ago! When asked which of his pendants best represents their work, without hesitation, Dan chose the dolphin and anchor pendant, because it reminds him of their love and lifelong partnership.
Happy retirement, Dan and Diane!