Art for Fun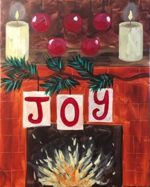 Our next Art for Fun art pARTies are coming up… November 28 from 5:45 to 8:00 pm and December 2 from 1:45 – 4:00 pm at the San Juan Islands Museum of Art.
To celebrate the holidays, we will be painting "Holiday Joy". Come share this fun event with friends or family. No experience necessary!
For more information and to register, please visit http://www.sjima.org.