Chamber Chat
Gail Schnee, San Juan Island Chamber of Commerce Board President, and Co-Owner of Cotton Cotton Cotton, shares this month's edition of Chamber Chat…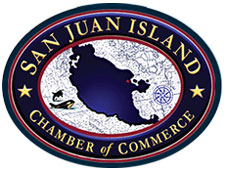 Who can believe we are in November and Thanksgiving has come and gone? This year has flown by and Christmas will be here before we know it.
Which means we should all start thinking about checking items off those Christmas wish lists. Our local businesses are happy to help you find that perfect gift or sell you a gift certificate to a favorite store, restaurant or adventure company.
A lot of stores are having sales this weekend with Black Friday, and don't forget that Saturday is Small Business Saturday. So we ask you to please support your local businesses this holiday season. Remember, don't buy from strangers, buy local and support your neighbors and friends.
Thanks to Friday Harbor Yacht Club for hosting the September Social and Printonyx for hosting the November social. Please mark your calendars for December 10th for the Chamber Annual Meeting/Awards/Holiday Social at Brickworks.
There are lots of events going on through the end of the year with Winterfest starting on December 1st. The Island Lights Festival starts at the Whale Museum, Tree Lighting at Memorial Park and Soup with Santa at Brickworks. Please note that the Tree lighting is on Saturday this year.
There are also concerts, plays and ballets to attend so make sure you look on the Chamber website for dates and times as well as business hours for your local restaurants.
New Chamber members are:
False Bay Guest House/Cassidy King
Ft Liberty Camping and Adventures
Dancing Seeds Farm
NW Island Escapes
Altar Movement Studio