Deer Are Not The Problem
Posted November 30, 2018 at 5:44 am by Tim Dustrude
In the SJ Update Mail­bag we find this let­ter from Alli­son Lance…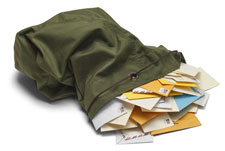 I attend­ed a meet­ing at the library last night on deer pop­u­la­tion here on San Juan Island and what I walked away with is: KILL DEER! My take is dif­fer­ent than pret­ty much every­one else's point of view at what felt like a Cabela-spon­sored rally.
We humans seem to have a psy­cho­log­i­cal need to blame any liv­ing thing oth­er than our­selves for the eco­log­i­cal and eco­nom­ic mess we find our­selves in.
Deer are not the prob­lem — we are. If we tru­ly cared about the native plants, birds and insects, we would take a hard look at our­selves and shape up. Human over­pop­u­la­tion is the dri­ving force of the prob­lem. Deer, cougar, wolf and bear were all native to San Juan. Along comes man and we elim­i­nat­ed all of the apex preda­tors that kept the island's frag­ile ecosys­tem in balance.
The islands were gor­geous, flour­ish­ing with indige­nous plants and ani­mals. Fast for­ward today, The San Juans have been trans­formed, eco­log­i­cal­ly muti­lat­ed. Native wildlife have been sac­ri­ficed for the pro­duc­tion of cat­tle pigs, chick­ens, sheep and lla­ma. Our old-growth forests have been clearcut, plowed under and replaced with plan­ta­tions, field crops, exot­ic flow­ers, grass­es, alfal­fa and hayfields.
Sev­er­al hunters were in the audi­ence and they talked about need­ing to feed their fam­i­lies and that there is not enough land avail­able for them to kill on. The parks are loose­ly pro­tect­ed (poach­ing a norm on San Juan) and there­fore they are only allowed to kill deer on their own prop­er­ty or get per­mis­sion from oth­er prop­er­ty own­ers to hunt on their land. This is gen­er­ous com­mu­ni­ty with many resources for the less for­tu­nate. I find it impos­si­ble to believe that deer are their only or even pri­ma­ry source of pro­tein. We have a won­der­ful Food Bank and right next door to it Fam­i­ly Ser­vices that will pro­vide for the des­ti­tute and the hun­gry. A few hunters in the audi­ence claimed abject pover­ty — to the con­trary, it is their excuse to jus­ti­fy their blood sport, their urge to kill.
For the non-hunters out there, let's start liv­ing with our fel­low species; they were here first. It is so pompous and short­sight­ed of us to move in and push the True Natives out. Sound famil­iar? Hunters, if you are able to "har­vest" (as if these ani­mals are crops) as many deer as the law allows and the deer van­ish (because as the speaker/hunter/biostitute told us, we have no idea how many deer are on this island) how will you feed your fam­i­lies then? Islands are tricky envi­ron­ments, where eco­log­i­cal col­laps­es can hap­pen sud­den­ly, lead­ing to the unex­pect­ed extir­pa­tion of indige­nous species. What species will we blame for the next cat­a­stroph­ic loss of native plants, bird and insects? Hunt­ing is not an eco­log­i­cal man­age­ment tool. There is noth­ing sci­en­tif­ic about it. Let's be hon­est and call it what it is: Killing For Sport. I am not opposed to a reduced deer pop­u­la­tion, but let's be fair and remove some of the true cul­prits as well: cows, pigs, chick­en, sheep and lla­ma. And then we can restore the land.
Last­ly, in most places, 95 per­cent of the land, pub­lic and often pri­vate is avail­able for hunt­ing. The parks are almost always the last sanc­tu­ar­ies. Now the hunters want to breach that? And after they get in, they are fol­lowed by tim­ber indus­try (log­ging parks to "improve" for­est health, et al.) When hunters are banned from pri­vate lands, it is usu­al­ly because they act like slobs or engage in dan­ger­ous shoot­ing practices.
Alli­son Lance
Fri­day Har­bor, WA
You can support the San Juan Update by doing business with our loyal advertisers, and by making a one-time contribution or a recurring donation.