Dictionaries for Students
This story submitted by Carla Wright, Publicity officer for Rotary Club of San Juan Islands…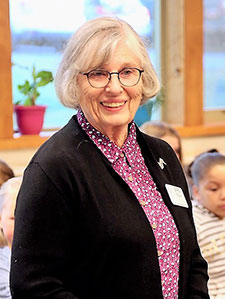 The Rotary Club of San Juan Islands recently visited the Friday Harbor Elementary School for its annual distribution of dictionaries to 3rd, 4th, and 5th grade students.
Pictured above are the 3rd grade students of Noel Harvey, Kim Warin, and Tessa Gavre. The kids are excited to receive dictionaries of their own.
Rotary Club of San Juan Islands has given over 3,000 dictionaries to students countywide for over 10 years under the leadership of Barb Fagan, Literacy Chair. (photo at left).