7th Annual San Juan Islands Agricultural Summit
Posted January 24, 2019 at 9:17 am by Tim Dustrude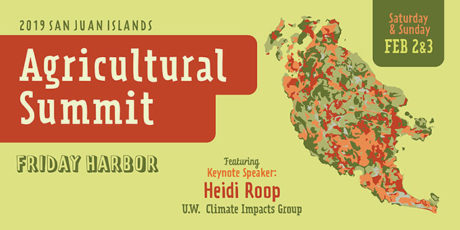 The San Juan Islands Agri­cul­tur­al Sum­mit returns to San Juan Island Feb­ru­ary 2nd and 3rd for the 7th year of edu­ca­tion and cel­e­bra­tion of the islands' food and farm­ing com­mu­ni­ties. Offer­ing a selec­tion of twen­ty dif­fer­ent work­shops and ses­sions, this year's Sum­mit is sure to have some­thing for every­one engaged with our local food system.
The Sum­mit kicks off Sat­ur­day with eight hands-on work­shops around the island. Dive deep with local and region­al experts on top­ics like "On-Farm Fire Safe­ty and Pre­pared­ness", "Fund­ing for Farm­ers", and "Keep­ing it Cool: Cold Stor­age Options and Imple­men­ta­tions". These stand-alone work­shops are $25 with advance reg­is­tra­tion, $30 day-of.
The whole com­mu­ni­ty is invit­ed to kick back Sat­ur­day night at the Sum­mit Hoe­down at Brick­works from 6–9pm. Enjoy live music from local group Riv­er Rye while savor­ing a BBQ din­ner from San Juan Bistro. Tick­ets will be sold at the door. $5 cov­er, $20 din­ner inclu­sive. Youth sev­en­teen and under free entrance, kids meals available.
Gath­er on Sun­day at Fri­day Har­bor Mid­dle School for a day of class­room ses­sions. Atten­dees will hear from Uni­ver­si­ty of Wash­ing­ton cli­mate sci­en­tist Dr. Hei­di Roop. Her keynote address, "From Coast­lines to Crops: What Cli­mate Change Means for the Puget Sound" will high­light the range of cli­mate impacts we expect in the region. She will dis­sect the sci­ence of cli­mate change com­mu­ni­ca­tions, and pro­pose steps to cat­alyze the action need­ed to con­front the cli­mate change chal­lenge head-on.
The full Sun­day pro­gram includes a selec­tion of twelve class­room sem­i­nars. High­lights include a his­to­ry of farm­ing and agri­cul­ture in the San Juans, nav­i­gat­ing on-farm labor prac­tices, plant breed­ing and cli­mate change, water rights, pas­ture ren­o­va­tion, and more. Sunday's all-inclu­sive tick­et includes break­fast and lunch from Mar­ket Chef, keynote address, and all Sun­day Ses­sions. $75 advance reg­is­tra­tion clos­es on Jan­u­ary 29, $85 at the door.
More infor­ma­tion includ­ing the full event sched­ule can be found on Eventbrite, or by con­tact­ing Sum­mit orga­niz­ers at sji.agsummit@wsu.edu or call­ing WSU San Juan Coun­ty Exten­sion office at (360) 370‑7667. RSVP for our event on Face­book and share with your friends. While the Sum­mit is geared toward adults, youth are encour­aged to attend at no cost. Please con­tact us to reg­is­ter any youth under 18 free of charge. Rea­son­able accom­mo­da­tions will be made for per­sons with dis­abil­i­ties and spe­cial needs who con­tact us at least two weeks pri­or to the event. Exten­sion pro­grams are avail­able to all with­out discrimination.
You can support the San Juan Update by doing business with our loyal advertisers, and by making a one-time contribution or a recurring donation.