Letter from OPALCO
Posted January 12, 2019 at 5:53 am by Tim Dustrude
WSF: Elec­tri­fy the San Juan Islands Fer­ry Routes FIRST
Don't delay pro­tec­tion of the Sal­ish Sea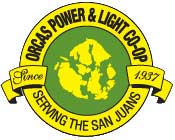 The cur­rent WS Fer­ries Long range plan for deploy­ing elec­tric fer­ries puts the San Juan routes last on the list. Why lose decades in our efforts to pro­tect the Sal­ish Sea – and all of the species who depend on it? OPALCO is call­ing for WSF to pri­or­i­tize get­ting the new, clean­er, qui­eter and super-effi­cient elec­tric fer­ries to the San Juan Islands route FIRST.
Car­bon pol­lu­tion impacts our sen­si­tive marine envi­ron­ment through acid­i­fi­ca­tion, warm­ing air and water tem­per­a­tures and changes to shore­line health and lev­els. Fer­ries make up 63% of the car­bon emis­sions from the Wash­ing­ton State Trans­porta­tion Fleet. The num­ber of species that are affect­ed in the Sal­ish Sea area of the Puget Sound is remark­ably con­cen­trat­ed and diverse: humans, Orcas whales, salmon, oys­ters, clams, bait fish, near shore eel­grass and kelp beds, birds, otters, seals, sea lions, inver­te­brates, and myr­i­ad oth­er fish and mam­mal species.
In addi­tion to car­bon (and oth­er con­t­a­m­i­nant) pol­lu­tion, ves­sel noise has been iden­ti­fied as a major bar­ri­er to the health and sur­vival of our South­ern Res­i­dent Orcas Whales. The Governor's 2019–2021 bud­get ini­tia­tive states: "The fre­quent dai­ly tran­sits of Wash­ing­ton state fer­ries are a sig­nif­i­cant con­trib­u­tor to under­wa­ter noise in Puget Sound."
OPALCO is ready and will­ing to help WSDOT meet the needs of elec­tric fer­ries on the San Juan Islands routes. In 2019, OPALCO will install the first of many bat­tery ener­gy stor­age sys­tems which can be uti­lized to help off­set the large peaks that charg­ing elec­tric fer­ries will incur. OPALCO also brings to the table giga­bit fiber and wire­less infra­struc­ture through­out the San Juan Islands routes to assist WSF with real-time mon­i­tor­ing and data sharing.
It goes with­out say­ing that Gov­er­nor Inslee is par­tic­u­lar­ly invest­ed in the health and sus­tain­abil­i­ty of our small inland sea and has already allo­cat­ed sig­nif­i­cant resources to address the issues that put it, and our res­i­dent Orca pods in par­tic­u­lar, at risk.
"My grat­i­tude goes out to staff of WSDOT Fer­ries and our local Fer­ry Advi­so­ry Com­mit­tee," said OPALCO Gen­er­al Man­ag­er Fos­ter Hil­dreth. "For let­ting our leg­is­la­tors know that our fer­ry sys­tem is bro­ken and we have to fix it. OPALCO wants to help WSF pilot elec­tric fer­ries here in the islands! As a Co-op, we can sup­port the effort and help short­en the learn­ing curve."
Adding elec­tric fer­ries to OPALCO's sys­tem pro­vides a num­ber of ben­e­fits: it adds local rev­enue through new pow­er demand at a time of declin­ing ener­gy usage due to cli­mate change and effi­cien­cy gains; and it opens up the poten­tial for a fer­ry to act as a bat­tery and pro­vide a pow­er source to the islands dur­ing extreme emer­gency sit­u­a­tions. Reli­able, clean trans­porta­tion is just as impor­tant as pow­er and internet.
Please reach out to your elect­ed offi­cials and ask them to encour­age the WSDOT Fer­ries to deploy elec­tric fer­ries on the San Juan Islands routes FIRST.
It's not that we mind the notion of hand-me-downs boats – islanders are boot-strap­pers – but the oppor­tu­ni­ties for sig­nif­i­cant, mea­sur­able results are far too great to ignore. Please help us get the reli­able elec­tri­fied fer­ry ser­vice that is appro­pri­ate for our envi­ron­men­tal­ly sen­si­tive envi­ron­ment – before it's too late.
The com­plete let­ter sent by OPALCO to WSDOT Fer­ries is online: https://www.opalco.com/wp-content/uploads/2019/01/Electrify-Ferries_SJI-FIRST.pdf
Orcas Pow­er & Light Coop­er­a­tive (OPALCO) is our mem­ber-owned coop­er­a­tive elec­tric util­i­ty, serv­ing more than 11,000 mem­bers on 20 islands in San Juan Coun­ty. OPALCO pro­vides elec­tric­i­ty that is 95% green­house-gas free and is gen­er­at­ed pre­dom­i­nant­ly by hydro­elec­tric plants. OPALCO was found­ed in 1937. Fol­low OPALCO @OrcasPower on Face­book and Twitter.
You can support the San Juan Update by doing business with our loyal advertisers, and by making a one-time contribution or a recurring donation.