Friday Harbor Boys/Girls Look to Sweep Darrington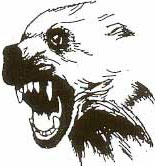 Friday Harbor High School boys and girls basketball teams look to sweep the Darrington Loggers for the 2018-2019 season. The boys will play first on Friday, February 1st at Darrington at 3:30pm and the lady Wolverines will play at 5:00pm.
Both games will be broadcast live on fhTinyRadio.com and streamed live on Facebook. Kaila Olin will have the play-by-play with Mike Martin providing color commentary beginning with the pregame at 3:15pm.
The Wolverine boys (12-6 overall, 8-0 in league) are winners of four straight games and undefeated in league play will try to secure first place in the league with a sweep over the Darrington Loggers (14-4 overall, 7-2 in league). The hot hands of Marshall Clark and Lucas Chevalier have helped the Wolverines maintain their their winning ways.
"The Loggers are a very high scoring team," Olin says. "The Wolverines will need to be sharp not only on offense but on defense as well." These teams last met on January 11th and Friday Harbor came out victorious 62-48 at home.
The Wolverine girls (7-11 overall, 5-3 in league) are coming off two close losses to the Mount Vernon Christian Hurricanes and the Squalicum Storm by a combined 14 points. The trio of senior threats with Tori Polda, Leah Black, and Ava Hoffman on offense and defense kept the Wolverines in the games. The game against the Loggers (5-13 overall, 2-7 in league) should improve their overall and league record.
"The Wolverines' defense is aggressive and fun to watch", says Olin. "Last time the lady Wolverines won by a whopping final score of 57-15."
She says that holding the Loggers to well under their average of 31 points per game will be key to Friday Harbor completing the season series sweep of Darrington on their home court on senior night.