Winter Weather Update: Are you Ready For Snow?
Posted February 7, 2019 at 9:10 am by Peggy Sue McRae
A mes­sage from Bren­dan Cow­an, direc­tor San Juan Coun­ty Emer­gency Management…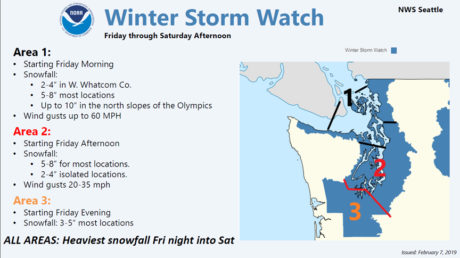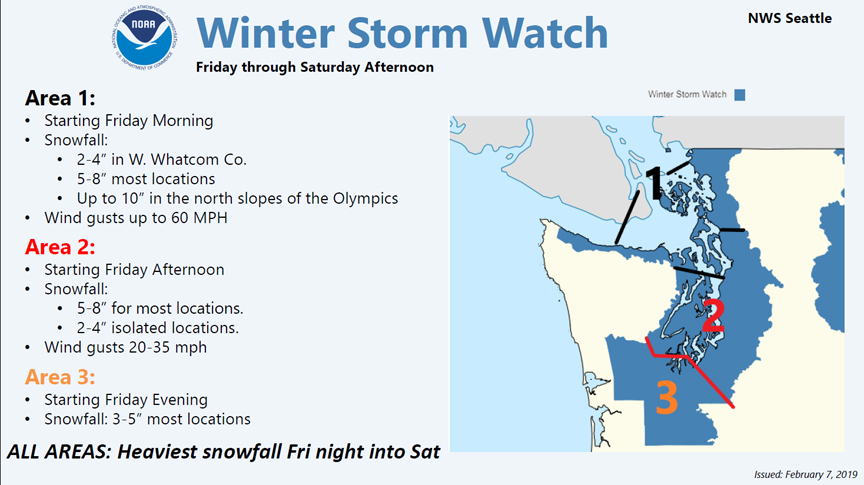 There's snow and more cold weath­er in the fore­cast. This weath­er pat­tern is set­ting up sim­i­lar­ly to what the islands last saw in 2008: extend­ed cold, pos­si­bil­i­ty of mul­ti­ple snow events, and inter­mit­tent high winds.

This is just a fore­cast, so we might end up with no snow, we might end with more snow, and there will like­ly be a wide range of impacts across the San Juans. In 2008, some islanders end­ed up need­ing stay at home for a num­ber of days due to impass­able roads. We also had chal­lenges with pipes that froze dur­ing pow­er out­ages in unoc­cu­pied homes, caus­ing con­sid­er­able water dam­age with the even­tu­al thaw.
Regard­less of how the weath­er unfolds, this is a great oppor­tu­ni­ty to be pre­pared just in case, and to remind every­one to let com­mon sense be your guide if the snow starts to fall:
If it's storm­ing out and there's snow on the roads, stay home if at all pos­si­ble. Give the hard work­ing road crews a chance to do their jobs.
Be pre­pared for being stuck at home for up to a week or so, and be ready for extend­ed pow­er out­ages. This is just basic island liv­ing 101. This is dou­bly true for those liv­ing on hills, at high­er ele­va­tions, and far from town.
Keep an eye on neigh­bors, fam­i­ly, and friends who might need an extra hand. Tak­ing care of each oth­er is the island way.
Don't call 911 to report pow­er out­ages or check on road con­di­tions. The OPALCO crews are amaz­ing, and will be out work­ing at the first sign of an out­age. Refresh your­self on how to report or stay updat­ed on out­ages at: https://www.opalco.com/outages/
And if you want more info about pre­vent­ing frozen pipes, gen­er­a­tor safe­ty, or gen­er­al win­ter weath­er pre­pared­ness, vis­it www.sanjuandem.net/winter
You can support the San Juan Update by doing business with our loyal advertisers, and by making a one-time contribution or a recurring donation.