Catkin Garden Design & Consulting
Posted March 14, 2019 at 5:48 am by Tim Dustrude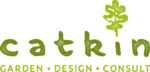 Meet Jen­ny Har­ris of Catkin Design. Jen­ny has recent­ly start­ed a new gar­den design and con­sult­ing busi­ness here in Fri­day Har­bor. "Catkin is a new iter­a­tion of my hor­ti­cul­tur­al life" she says.
Orig­i­nal­ly called appro­pri­ate hor­ti­cul­ture, what Jen­ny does is now called Eco­log­i­cal Design — a self sus­tain­ing kind of gar­den design that is sup­port­ive of all the nat­ur­al process­es and bio­log­i­cal organ­isms involved, such as insects, birds, mam­mals and pol­li­na­tors as well as the plants them­selves. Jen­ny stud­ied and worked in hor­ti­cul­ture in Cal­i­for­nia before mov­ing to Lopez Island in 1993 and now has made Fri­day Har­bor her home as of 2014.
She recent­ly trav­eled to Europe, and attend­ed an Eco­log­i­cal Design hor­ti­cul­tur­al sym­po­sium in Essex, UK that stressed the New Peren­ni­al Move­ment. She wants to bring those ideas back here to San Juan Island.
So how is Catkin different?
"I'm not a big gar­den­ing firm, and I'm not a main­te­nance crew. I pre­fer to teach gar­den­ing tech­niques and I love to work with peo­ple who love to gar­den, and help them cre­ate their vision." How­ev­er, she has a mutu­al­ly ben­e­fi­cial col­lab­o­ra­tion going on with Desiree Nabong and Adam Chor­ba-Pulk­ka of Frog­song Yard & Gar­den for clients of hers who need help get­ting the actu­al gar­den­ing work done.
And in the works for the near future is an email based plant club of sorts. "I want to help peo­ple find and source unusu­al peren­ni­als and shrubs appro­pri­ate to our cli­mate includ­ing native, drought & deer resis­tant, low main­te­nance solu­tions for their gar­dens. And I will be offer­ing plants as plas­tic-free as pos­si­ble: bare root and in fiber pots as often as I can."
To that end, there will soon be a week­ly or month­ly email newslet­ter for mem­bers to see what's sea­son­ably avail­able. It's free to join and there are no oblig­a­tions — just send Jen­ny a request at quercus@rockisland.com to find out more.
And be sure to check out her web­site at www.wildcatkin.com as well.
You can support the San Juan Update by doing business with our loyal advertisers, and by making a one-time contribution or a recurring donation.