OPALCO Annual Meeting
Posted March 23, 2019 at 5:43 am by Tim Dustrude
OPALCO Annu­al Meet­ing: Sat­ur­day, April 13th FREE Lunch, Prizes and Co-op Q&A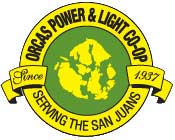 If you pay your pow­er bill to OPALCO, you're a mem­ber of the Co-op and this fun-filled annu­al meet­ing is all about YOU! OPALCO holds its annu­al meet­ing on the inter-island fer­ry so it's easy for every­one to come aboard. Lunch will be served at your fer­ry land­ing, and prizes hand­ed out dur­ing the short cruise around the inter-island route. The main event is a mem­ber Q&A ses­sion, fol­low­ing a brief "state of the co-op" address. Elec­tion results will be announced.
The theme of this year's meet­ing is "Safe­ty" and we'll be cel­e­brat­ing Nation­al Linework­er Appre­ci­a­tion Day with cup­cakes and a chance to meet some of our linework­ers. OPALCO's part­ners will be on board with infor­ma­tion and give-aways includ­ing: San Juan Islands Con­ser­va­tion Dis­trict, BPA, Rock Island Com­mu­ni­ca­tions and T‑Mobile. How do you get in on the action? Show up at your fer­ry land­ing on Sat­ur­day morn­ing and reg­is­ter for the meet­ing. No reser­va­tions required. The trav­el sched­ule is:
San Juan Island
Reg­is­ter @ 7 am
Fer­ry leaves @ 8:30 am
Return to Fri­day Har­bor @ 11:15 am
Orcas Island
Reg­is­ter @ 7:30 am
Fer­ry leaves @ 9:15 am
Return to Orcas 12:40 pm
Shaw Island
Reg­is­ter on ferry
Fer­ry leaves @ 9:30 am
Return to Shaw @ 12:20
Lopez Island
Reg­is­ter @ 8:45 am
Fer­ry leaves @ 9:55 am
Return to Lopez @ 1 pm
OPALCO is required by the Rur­al Util­i­ties Ser­vices (RUS) to hold an annu­al meet­ing each year. Mem­bers who missed the meet­ing can read the 2018 Annu­al Report online (www.opalco.com). A lim­it­ed num­ber of print­ed copies are avail­able at your local OPALCO office, as long as sup­plies lasts.
Orcas Pow­er & Light Coop­er­a­tive (OPALCO) is our mem­ber-owned coop­er­a­tive elec­tric util­i­ty, serv­ing more than 11,400 mem­bers on 20 islands in San Juan Coun­ty. OPALCO pro­vides elec­tric­i­ty that is 97% green­house-gas free and is gen­er­at­ed pre­dom­i­nant­ly by hydro­elec­tric plants. OPALCO was found­ed in 1937. Fol­low OPALCO @OrcasPower on Face­book and Twitter.
You can support the San Juan Update by doing business with our loyal advertisers, and by making a one-time contribution or a recurring donation.