SJIMA Family Art Days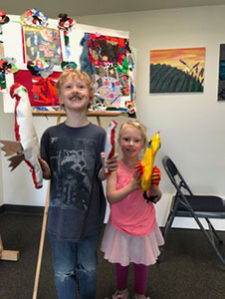 There is Always Something New
Greeting Spring is the new program of Family Art Days (FAD) at the San Juan Islands Museum of Art (SJIMA). The informal classes start on Saturday, April 6th at 540 Spring Street in Friday Harbor. The classes are held in the cozy upstairs workshop area from 1:00 t0 5:00 on most Saturdays.
This continues the 2019 year-long program of family classes designed by professional instructor, Lana Hickman. This series emphasizes ferries, plant life and the Town of Friday Harbor as well as performing good deeds in your community.
Designed for family fun with parents, grandparents and children 12 and under; everyone learns and creates. And, you take your art home that day. FAD's are free, but donations to cover materials and costs are always welcome.
Join the art of discovery at SJIMA where there is always something new!
FADs are sponsored by Suzy Wakefield and the Community Foundation of San Juan Island.
See the schedule here:
April
6th – Paint a townscape of Friday Harbor –include those you'd like to see! Acrylic painting on plywood.
13th – Work on building a 3-D house. Explore igloos, huts, pueblos, and longhouses. 3-D poster board construction.
20th – Help children in need! Make original cards and small 3-D items to sell. Graphic design.
27th – Trash to treasure never looked so good! Build artful things out of recyclable items.
May
11th – Be a friend of the San Juan Islands and its native species-tell your own wild plant and animal story.
18th – Ferries and airplanes. Larger -scale collective work. Acrylic on canvas. 25th
25th – Create an inventive Family Tree-design your own crest and motto. Multi-media utilizing collage & scrapbooking techniques.
June
1st – The World Tree. See where we fit and how we can be good stewards. 3-D work in metallic poster, wood & plastic.
Supporters include King's Market, Nana's Holiday House, Mystical Mermaid, and Jeanine Earnhart.
The summer theme and activities will involve the Salish Sea and ocean life in concert with the summer exhibition, DEEP DIVE. In it the best of Pacific NW art will showcase the creatures of the deep and the icons of the ocean. That exhibition begins on June 14th.