Tap Into the Power of Dragons!
Posted April 25, 2019 at 5:45 am by Tim Dustrude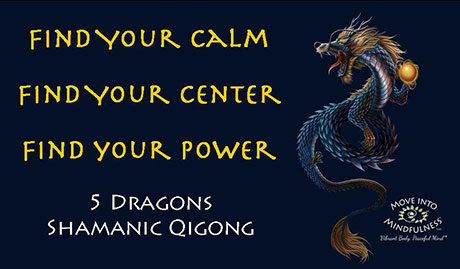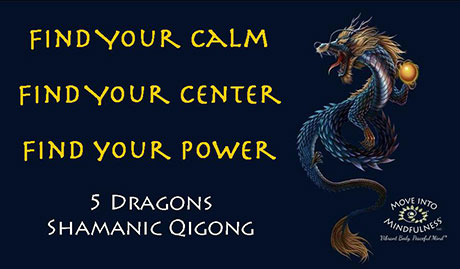 Find Your Calm. Find Your Cen­ter. Find Your Pow­er. For those seek­ing that elu­sive 'more,' join us in Shaman Style 5 Drag­ons Qigong. It begins on Thurs­days, 5:30 – 6:30 pm, May 2 through June 27 at Fri­day Har­bor Dance Studio.
This is an ancient Chi­nese mind/body tech­nique to enhance the body's bio-ener­gy sys­tem for greater health, vital­i­ty, and self-aware­ness. In Chi­nese cul­ture, the drag­on is a sym­bol of pow­er, strength and good luck. Meta­phys­i­cal­ly, the Drag­on works with the pow­er of the spir­it, heal­ing and divine connection.
The 5 Drag­ons Qigong form is espe­cial­ly phys­i­cal, offer­ing strength and bal­ance train­ing inter­twined in the ener­getic and spir­i­tu­al forms. The flow­ing move­ments are sim­i­lar to Tai Chi, but done in place, mak­ing it an excel­lent home prac­tice, espe­cial­ly in small places.
The var­ied move­ments pro­vide an oppor­tu­ni­ty to strength­en the mus­cu­loskele­tal sys­tem, improve bal­ance, increase vital­i­ty, har­mo­nize the organ net­work sys­tem, calm the mind, and enhance focused attention.
The 5 Drag­ons ses­sion runs for 9 weeks, $108, $17 for drop-ins. No pri­or expe­ri­ence required.
Instruc­tor Stephanie Pri­ma has been a devout Qigong prac­ti­tion­er for over sev­en years and cred­its it with dra­mat­i­cal­ly improv­ing her life. This class draws direct­ly on clas­sic forms, passed down for over 5,000 years and proven to strength­en the body and spirit.
Stu­dents report "Stephanie has a warm, love­ly presence…wonderful, enjoy­able teach­ing style…very focused and helpful…specific instruc­tions that are easy to follow."
Stephanie is own­er of Move Into Mind­ful­ness, LLC. In addi­tion to teach­ing Qigong she is an autho­rized instruc­tor of Tai Ji Quan: Mov­ing For Bet­ter Bal­anceâ and Holis­tic Health Coach. She works with pri­vate clients to help peo­ple age with less pain and the ener­gy of a much younger person.
For more infor­ma­tion and to reg­is­ter, go to http://bit.ly/MIM-Qigong; con­tact Stephanie at Outreach@MoveIntoMindfulness.com or 360.317.1448.
"Stephanie has a love­ly gen­tle way about her, exudes kind­ness, is clear, and very approachable."
"Stephanie holds the ener­gy in the room beau­ti­ful­ly, and enhances the stu­dents' expe­ri­ence of their own energies"
"Very ground­ing, sup­port­ive and easy to follow."
"Stephanie has a warm, love­ly pres­ence; won­der­ful, enjoy­able teach­ing style.…very focused and helpful…specific instruc­tions that are easy to follow…"
"I learned a life­long dis­ci­pline for enhanced well­ness and expand­ing my inner aware­ness. I expe­ri­enced a big shift in vital­i­ty after each prac­tice, and over­all sense of calm, as well as an inner strength."
"I would encour­age any­one to try it on for size, as the ben­e­fits could be far reaching."
"I'm more able to con­trol my inter­nal stress…"
"I have increased abil­i­ty to release and let go of neg­a­tive experiences…"
"Worth­while class — tip of a pos­i­tive iceberg..or energy-berg"
"This class has helped me listen…to life, self, nature, myself"
You can support the San Juan Update by doing business with our loyal advertisers, and by making a one-time contribution or a recurring donation.