Tap Into the Power of Dragons!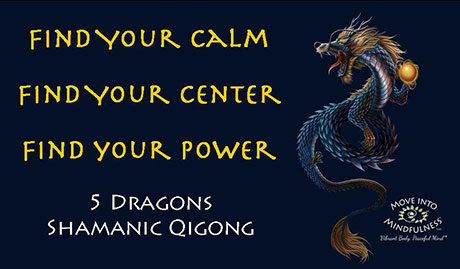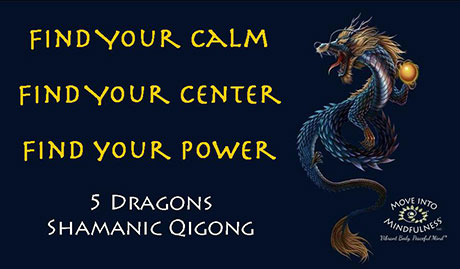 Find Your Calm. Find Your Center. Find Your Power. For those seeking that elusive 'more,' join us in Shaman Style 5 Dragons Qigong. It begins on Thursdays, 5:30 – 6:30 pm, May 2 through June 27 at Friday Harbor Dance Studio.
This is an ancient Chinese mind/body technique to enhance the body's bio-energy system for greater health, vitality, and self-awareness. In Chinese culture, the dragon is a symbol of power, strength and good luck. Metaphysically, the Dragon works with the power of the spirit, healing and divine connection.
The 5 Dragons Qigong form is especially physical, offering strength and balance training intertwined in the energetic and spiritual forms. The flowing movements are similar to Tai Chi, but done in place, making it an excellent home practice, especially in small places.
The varied movements provide an opportunity to strengthen the musculoskeletal system, improve balance, increase vitality, harmonize the organ network system, calm the mind, and enhance focused attention.
The 5 Dragons session runs for 9 weeks, $108, $17 for drop-ins. No prior experience required.
Instructor Stephanie Prima has been a devout Qigong practitioner for over seven years and credits it with dramatically improving her life. This class draws directly on classic forms, passed down for over 5,000 years and proven to strengthen the body and spirit.
Students report "Stephanie has a warm, lovely presence…wonderful, enjoyable teaching style…very focused and helpful…specific instructions that are easy to follow."
Stephanie is owner of Move Into Mindfulness, LLC. In addition to teaching Qigong she is an authorized instructor of Tai Ji Quan: Moving For Better Balanceâ and Holistic Health Coach. She works with private clients to help people age with less pain and the energy of a much younger person.
For more information and to register, go to http://bit.ly/MIM-Qigong; contact Stephanie at Outreach@MoveIntoMindfulness.com or 360.317.1448.
"Stephanie has a lovely gentle way about her, exudes kindness, is clear, and very approachable."
"Stephanie holds the energy in the room beautifully, and enhances the students' experience of their own energies"
"Very grounding, supportive and easy to follow."
"Stephanie has a warm, lovely presence; wonderful, enjoyable teaching style….very focused and helpful…specific instructions that are easy to follow…"
"I learned a lifelong discipline for enhanced wellness and expanding my inner awareness. I experienced a big shift in vitality after each practice, and overall sense of calm, as well as an inner strength."
"I would encourage anyone to try it on for size, as the benefits could be far reaching."
"I'm more able to control my internal stress…"
"I have increased ability to release and let go of negative experiences…"
"Worthwhile class – tip of a positive iceberg..or energy-berg"
"This class has helped me listen…to life, self, nature, myself"