Action Plan for a Sustainable Ferry System Released
Posted May 2, 2019 at 5:34 am by Tim Dustrude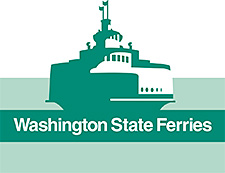 Wash­ing­ton State Fer­ries is excit­ed to announce that in hon­or of Earth Day, they launched a two-year Sus­tain­abil­i­ty Action Plan (PDF) that out­lines goals and actions for green­er fer­ries and ter­mi­nals. It includes ini­tia­tives to pro­tect orca whales, reduce green­house gas emis­sions, improve air qual­i­ty, reduce waste, and oth­er ways to make the fer­ry sys­tem more sustainable.
The plan also lays out a path to ful­fill WSDOT's com­mit­ment to sus­tain­abil­i­ty, achieve the goals set out in Gov­er­nor Inslee's Exec­u­tive Orders 18–01 (PDF) (ener­gy effi­cien­cy) and 18–02 (PDF) (orca recov­ery), and imple­ment sus­tain­abil­i­ty rec­om­men­da­tions out­lined in the 2040 Long Range Plan.
Com­mu­ni­ty and stake­hold­er engage­ment is an impor­tant aspect of the Sus­tain­abil­i­ty Action Plan to iden­ti­fy poten­tial new focus areas, goals and actions.
"Because we oper­ate our 23 fer­ries on Puget Sound and man­age 20 ter­mi­nals on its shores, we have an oblig­a­tion to ensure we're doing every­thing we can to pro­tect our envi­ron­ment. This plan lays out our com­mit­ment to tack­le these issues and con­tin­ue our efforts to make Washington's fer­ry sys­tem the green­est in the world!"
You can support the San Juan Update by doing business with our loyal advertisers, and by making a one-time contribution or a recurring donation.