A Definitive Fork in the Road
Posted June 4, 2019 at 9:16 am by Tim Dustrude
In the mail­bag this morn­ing, we have this let­ter from Steve Ulvi…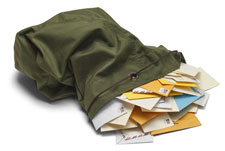 I have been unusu­al­ly for­tu­nate to have spent a life­time find­ing deep ful­fill­ment and direc­tion for my trou­bled mind in expan­sive forests, on moun­tain slopes and cours­ing wild rivers. My youth­ful day dream­ing, fueled by adven­ture sto­ries before sleep, cul­mi­nat­ed in find­ing a home for sev­er­al decades in north­ern Alas­ka where pri­mor­dial nature astounds, deep time res­onates and native peo­ple are still insep­a­ra­ble from their cul­tur­al homelands.
Even­tu­al­ly the great para­dox of liv­ing in the north, escap­ing "the madding crowd" in 1974, was that the steady increase of annu­al warm­ing was about twice as rapid as any­where else and even worse in the arc­tic. In spite of that cho­sen expe­ri­ence , or more like­ly because of it, I find myself at a com­plete loss to under­stand our unabat­ed destruc­tive ram­page as a species.
What is so trou­bling, look­ing in the rear view mir­ror of a life pass­ing all too quick­ly, is the notion that when I awoke to envi­ron­men­tal activism as a nec­es­sary out­growth of dis­dain for the life­ways in sprawl­ing sub­urbs, there was great social con­scious­ness and ener­gy toward fix­ing what was bro­ken. One could wrap a small mind around what was often an under­stand­able cau­sa­tion that could be stopped or slowed or reg­u­lat­ed effec­tive­ly, if enough peo­ple cared. Just roll up your sleeves, engage oth­er cit­i­zens and take direct action in the street if need be. Could even stop a new dam or a ter­ri­ble war. Any­thing seemed pos­si­ble. Per­haps you recall that promis­ing time.
In the same era, in stark con­trast to today, the fed­er­al gov­ern­ment, includ­ing con­ser­v­a­tive admin­is­tra­tions, passed pro­found sweep­ing pro­tec­tive leg­is­la­tion like the Clean Water Act, Clean Air Act, Nation­al Envi­ron­men­tal Pol­i­cy Act and the Nation­al Wilder­ness Act with bi-par­ti­san majori­ties because the ram­i­fi­ca­tions of growth and resource con­sump­tion were com­ing into ugly focus. But at that time I could not have known that these shift­ing social move­ments demand­ing greater pro­tec­tive mea­sures for peo­ple and the nat­ur­al world gal­va­nized con­ser­v­a­tives bent on gain­ing ever­more wealth to form non-prof­it think tanks to pro­mul­gate pub­lic strate­gies that would con­fuse and divide the elec­torate to keep the rich­es flow­ing into their bank vaults for as long as possible.
Fast for­ward near­ly 50 years and a few of the seri­ous envi­ron­men­tal dan­gers, like the ozone hole, poi­soned Great Lakes, acid rain, urban rivers catch­ing fire and nuclear above ground tests were fixed, more or less, with much fan­fare. But the deep roots of our mind­less iner­tia today were born in unbri­dled cap­i­tal­ism pur­pose­ly under­min­ing democ­ra­cy: dark mon­ey in elec­tions, a lack of con­gres­sion­al and state leg­isla­tive term lim­its, insid­i­ous cor­po­rate lob­by­ing, tax breaks for the wealthy and the dis­trac­tion of com­pla­cent cit­i­zens obsessed with flashy goods and los­ing touch with 10,000 gen­er­a­tions of nature-cen­tered humil­i­ty and restraint, that is latent with­in each of us.
This Anthro­pocene Era of the late Holocene Epoch (the last 11,500 years of post glacia­tion) is actu­al­ly in con­sid­er­a­tion as a new line of geo­log­ic stratig­ra­phy so marked are our glob­al impacts. In rel­a­tive terms, this Anthro­pocene is but a short para­graph in a thou­sands of pages of earth his­to­ry, a mere moment in deep time, but per­haps as mon­u­men­tal as a flam­ing aster­oid slam­ming into the Gulf of Mex­i­co to end the 100 mil­lion year reign of huge rep­tiles. But this time cre­at­ed by us in just 220 years of burn­ing fos­sil fuels from that same trop­i­cal peri­od, with­out moral regard for nature or gen­er­a­tions of humans just like us, yet unborn.
The litany of seri­ous biot­ic fail­ures rapid­ly unfold­ing, with phys­i­cal and chem­i­cal feed­back loops and trig­ger points not under­stood, are pre­dictably dan­ger­ous enough each in their own right, but dras­tic alter­ation of the thin blan­ket of pro­tec­tive atmos­phere of our lone­ly blue plan­et, con­stant­ly bom­bard­ed by solar radi­a­tion, promis­es the undo­ing of mod­ern civ­i­liza­tion and hun­dreds, if not many thou­sands of years of tra­vail for all sen­sate beings who have yet to live. Yet we col­lec­tive­ly twid­dle and vote against our best col­lec­tive inter­ests, with­out moral com­punc­tion, as the bil­low­ing dark genie of green­house gas expands and the known lag time for undo­ing this ter­ri­ble mis­take multiplies.
We con­flate our form of gov­er­nance (rep­re­sen­ta­tive democracy/republic) with our eco­nom­ic sys­tem (cap­i­tal­ism) despite the star­tling diver­gence of empha­sis with regard for the human con­di­tion of these social orga­ni­za­tion­al forms. We can only wish that demo­c­ra­t­ic aspi­ra­tions had always trumped cap­i­tal­ist self-interest.
No mat­ter how fine­ly you parse these lofty con­cepts, or define your own cur­rent world view, most impor­tant polit­i­cal deci­sions reg­u­lat­ing and rein­vest­ing our immense nation­al wealth and pow­er, behind smoke and mir­rors or right in our faces, clear­ly favor a small minor­i­ty of cit­i­zens and con­cen­trate wealth to a degree that would warm the hearts of Rob­ber Barons of the past. I hope that the pow­er­ful and wealthy who have, and con­tin­ue to pur­pose­ly cir­cum­vent the pub­lic inter­est in a rea­son­able secure future, in order to line their deep pock­ets will be known and derid­ed as "The Unfor­give­able" far into the dystopi­an future.
The fatal flaw of cap­i­tal­ism has always been in ignor­ing "neg­a­tive exter­nal­i­ties" (unad­dressed bad con­se­quences) in indus­tri­al devel­op­ment and pro­duc­tion that right­ly must be addressed in the ini­tial cost of pro­duc­tion. It is irra­tional (and eco­nom­i­cal­ly inef­fi­cient) to allow pri­va­ti­za­tion of prof­its while social­iz­ing dele­te­ri­ous impacts on cit­i­zens and the nat­ur­al envi­rons. The open col­lu­sion of gov­ern­ment and pow­er­ful busi­ness inter­ests is in servi­tude to cap­i­tal and those who have it. How is it pos­si­ble that shared clean air and water, essen­tial for health and the com­mu­ni­ty of life, con­tin­ue to be sub­servient to cap­i­tal­ist profit-taking?
Rep­re­sen­ta­tive gov­ern­ment com­plete­ly fails when it does not ade­quate­ly con­trol the destruc­tive excess­es of late-stage cap­i­tal­ism in order to pro­tect inalien­able human rights, ecosys­tem ser­vices and the pub­lic com­mons. Not to men­tion hon­or­ing the inher­ent rights of future gen­er­a­tions and the unfath­omably ancient bios­phere in which we so recent­ly evolved.
Any hope for future com­mu­ni­ty resilience and some lev­el of mit­i­ga­tion of the cas­cad­ing impacts of severe cli­mate dis­rup­tion, fes­ter­ing social inequity and col­laps­ing ecosys­tems, lies in the luck of geog­ra­phy and com­mu­ni­ty self-deter­mi­na­tion. The key is a polit­i­cal will­ing­ness to active­ly har­ness and shape eco­nom­ic forces toward a local­ly sus­tain­able community.
We enjoy an espe­cial­ly hope­ful cir­cum­stance. The 1990s rapid build­out and expand­ing des­ti­na­tion tourism great­ly fueled pri­vate ben­e­fits while most­ly poo-poo­ing pub­licly born costs. Our Land Bank and more recent afford­able Hous­ing Fund, are per­fect exam­ples of affir­ma­tive­ly employ­ing cor­rec­tive shap­ing of a strong econ­o­my by impos­ing small tax­es on pri­vate prop­er­ty sales after peti­tion by res­i­dents and a major­i­ty vote. Har­ness­ing the prob­lem to fund the solu­tion. Pub­lic access to shore­line, ridge panora­mas, lakes, trails and arable farm­lands. Long over­due per­ma­nent­ly afford­able hous­ing to enable our crit­i­cal work­ing fam­i­lies to set­tle, build equi­ty and repop­u­late our schools.
We seem to con­tin­ue to balk at a piv­otal fork in the road, as revealed in the vision­ary hap­py talk with­out clear pol­i­cy foun­da­tions in the details of a rig­or­ous update of our foun­da­tion­al Coun­ty Com­pre­hen­sive Plan. We either exert intel­li­gent con­trol over free-wheel­ing cap­i­tal­ist forces that blind­ly dimin­ish future options for com­mu­ni­ty self-deter­mi­na­tion, or we suf­fer the com­pound­ing exter­nal­i­ties of a hap­haz­ard prof­it-tak­ing mantra of growth for its own sake.
So what about incen­tiviz­ing sus­tain­able local prac­tices; agri­cul­tur­al expan­sion for local food and crit­i­cal car­bon seques­tra­tion, more diverse eco­nom­ic sec­tors, small busi­ness expan­sion, car­bon neu­tral­i­ty, over-tourism reduced, healthy fam­i­ly cohe­sion, solar pan­el grids, elec­tric cars, addi­tion­al tax­es on emp­ty homes, large scale composting…
Any­thing is pos­si­ble when cit­i­zens pay atten­tion, demand buffer­ing of self­ish avarice through rea­son­able gov­ern­ment and real­ize the pow­er of self-determination.
You can support the San Juan Update by doing business with our loyal advertisers, and by making a one-time contribution or a recurring donation.