Julie's Nursery
Remember Julie Danrich, the woman who started the nursery at Browne's about 20 years ago and grew it into what it is today? Well she's at it again, this time with her own business which officially opened on May 12th.
"Julie's Nursery" is over at 150 Web Street next door to Rex and Lisa Guard's new building (and she just happens to be in the house where Denny Martel grew up).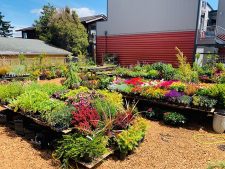 Alongside the house she has a yard about 100 ft x 50 ft that is full of beautiful plants and shrubs waiting for you to take them home.
Inside and outside she offers house plants & small pottery, perennials, annuals, trees and shrubs. And she takes special orders as well.
Currently her open hours are 9am to 6pm Wednesday thru Sunday (closed on Monday and Tuesday). She has plans to begin offering classes in the future for things like Container Gardening, Wreath Making, Hanging Baskets and other things.